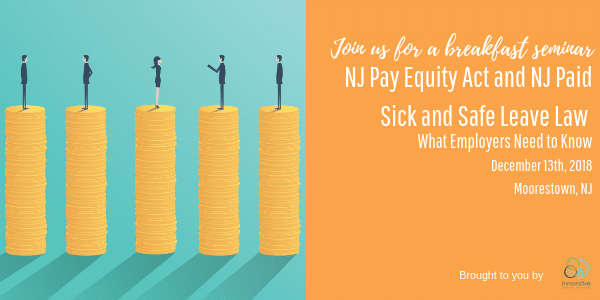 Recently, New Jersey enacted two new pieces of legislation that affect employees direct compensation and Leave.  The Diane B. Allen Equal Pay Act which went into effect on July 1st aims to end discriminatory wage practices and makes employers in New Jersey vulnerable to a certain degree of liability if their compensation practices are considered unlawful.  Furthermore, on October 29, 2018, New Jersey's Paid Sick and Safe Leave Law went into effect.  This law removes many compliance hurdles employers in New Jersey have faced in the past due to municipal paid sick leave ordinances.  Innovative Benefit Planning's VP of HR and General Counsel, Deirdre Groenen, Esquire, has prepared a comprehensive seminar on the new legislative changes affecting employers. Join us over breakfast at our office in Moorestown, as attorney Deirdre walks employers through compliance duties associated with the new laws. Innovative has partnered with Ultimate Software to bring you this seminar, which will include a live demonstration from Ultimate of UltiPro Business Intelligence. UltiPro Business Intelligence can assist employers in compliance surrounding these new laws through its intuitive analytics that have the ability to identify and correct potentially discriminatory compensation practices. Users have access to Pay Equity dashboards and can easily determine average compensation by gender, ethnicity, age, disability status, and job level.
This workshop will be geared towards employers with 100+ full-time employees and is approved for 1.5 hours of CE credits for HRCI, SHRM and CPE designations.
Event Details:
Date: December 13th, 2018
Location: 101A Foster Road Moorestown, NJ 08057
Time: 8:00 am- Registration/Networking
8:30 am- 10:00 am- Educational Program/Breakfast
Sponsored by Ultimate Software, Inc. 
Ultimate Software's UltiPro® delivers one, master system of record to capture, consolidate, manage, and analyze global workforce information. The solution's unified reporting and business intelligence tools enable executives to pull data across all components of HR, payroll, and talent management on a scheduled basis to gain complete visibility and insight into key workforce metrics and business trends.