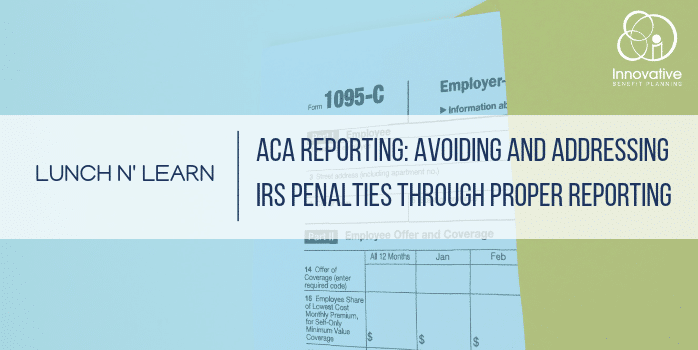 16% of employers have received IRS penalty letters. Ensure You are Not One of Them!
The Affordable Care Act (ACA) continued to drive headlines throughout 2018 as the United States Government debated and voted on its future. As of today, the ACA is still the law of the land, so it behooves employers and individuals to adhere to its mandates. Unfortunately, for those employers who fail to file a correct information return, the IRS's process for identifying ACA non-compliance has improved as they've invested $2.6 million to overhaul the data collection system. A recent report by the Treasury Inspector General stated that of the 300,000 applicable Large Employers in the U.S., 50,000 (16%) have received a penalty letter totaling more than  $4.4 billion in potential penalties as a result of their ACA Reporting. By the end of 2018, the Congressional Budget Office (CBO) predicts ACA penalty assessments could be as a high as $12 billion.
Employers should be ready to fully meet the reporting requirements in early 2019 with a high degree of accuracy.
Innovative has kept a close eye on any legislation surrounding the ACA and continues to monitor any potential changes that would impact mid and large size employers.  We invite you to join Innovative Consultants, and ACA experts, Dan Foley & Ryan Kastner, for an educational seminar providing an update on the ACA and an in-depth review of employer reporting responsibilities and steps employers can take to avoid IRS penalties and respond to penalty letters.
Learning Objectives:
Understanding current, pending & future Employee Benefits legislation and how to prepare
Remaining compliant in a changing political landscape
Implementing actionable strategies and initiatives to reduce risk and increase efficiencies within organizations
How to fill out and file 1094 and 1095 forms – Including any new coding options the IRS added for 2019
How ACA reporting & benefit eligibility is impacted by Leave of Absences, Status Changes and Reduction in Hours
What you need to know to ensure your service provider completes your forms correctly
Frequently Asked Questions
Responding to and appealing IRS penalty letters.
This seminar is geared toward employers with 100+ full time employees and is approved for 2.5 hours of CE credits for HRCI, SHRM and CPE designations.
Event Details:
When: Wednesday, January 9th, 2018
Where: Ruth's Chris Parsippany
1 Hilton Court Parsippany, NJ 07054
Time: 11:30 a.m. – Registration/Lunch
12:00 p.m. -2:30 p.m.- Educational program