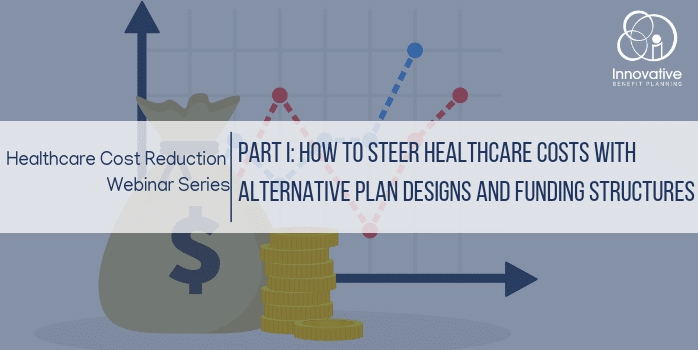 Premiums for employer-sponsored health insurance plans have tripled since 1999. With annual increases out-pacing almost every other facet of the U.S. economy, it is no wonder health insurance is under a microscope on a daily basis.  While disheartening, over the past decade many mid and large market employers have implemented common sense strategies to contain these costs and maintain plan integrity.  During our two-part webinar series we will discuss each strategy and how to develop a 3-5 year plan to reduce healthcare costs and provide a valuable employee benefit programs.
In Part One of our Healthcare Cost Reduction Webinar Series, we will look at a variety of healthcare funding methods and ways your organization can drive value and control the costs of your benefit offerings. Innovative's VP of Consulting, Ryan Kastner, will walk attendees through a program that was designed for employers who are frustrated with the minimal opportunities to control costs within their fully insured healthcare plans. Attendees will leave with an increased understanding of the following strategies:
Tiered/Narrow Networks
Level and Graded Funding
Health Reimbursement Accounts
Captives & Consoritums
Self-Funding
Results-Based Plan Designs
This program is designed for employers with 100+ full-time employees and has been approved for 1 hour of HRCI, SHRM and CPE continuing education credits.
Event Details:
Date: Wednesday, October 24, 2018
Location: Online
Time: 1:00pm
*Employers looking to learn about advanced strategies that can be used to drive down claims cost through healthcare analytics, be sure to register for Part II of our Cost Reduction Webinar Series.