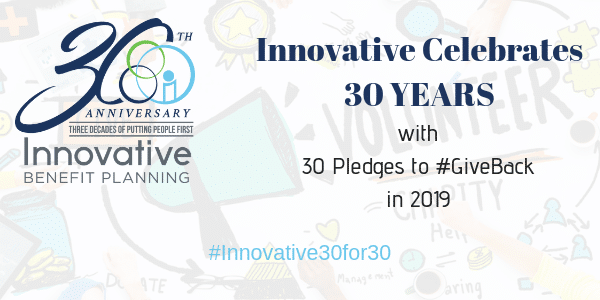 We're almost halfway through the year and our 30 year givebacks campaign is in full swing! To celebrate our 30 year anniversary and pay thanks to our amazing community and countless partners, Innovative had pledged back in January to give back in 30 different ways this year, and make our community a key part of our business in 2019. As we hit the halfway point, we are half way to 30!
The givebacks we've done so far:
#30. The Innovative team came together to support the United Way Impact Fund Campaign for their 2019 Annual Campaign.
#29. Innovative sponsored and supported "For Pete's Sake-Take a Break from Cancer" Annual Gala.
#28. We sponsored Samaritan Healthcare & Hospice's annual "Celebration of Life Gala".
#27. The Innovative team collected coats for our Winter Coat "Share the Warmth" Drive, which benefited the local nonprofit "Code Blue Collaborative".
#26. A team from Innovative cooked breakfast for the Ronald McDonald House of Southern NJ.
#25. Innovative sponsored and supported the Non-Profit Development Center of Southern NJ NPO Awards.
#24. Innovative celebrated National Pet Day by doing various tasks while volunteering at the Burlington County Animal Shelter and collecting donations in-house.
#23. Innovative planted a garden outside our building for Earth Day.
#22. Innovative volunteers cleaned up the Hopeworks Garden in Camden for the upcoming growing season.
#21. Our COO and the Innovative team collected purses for a Mother's Day event for "Purses Full Of Hope", an organization that helps abused women get back on their feet.
#20. We were the Reception Sponsor for the Community Access Unlimited (CAU) Golf Outing, and helped them raise over $37,000 for people with disabilities and at-risk youth.
#19. Innovative was the Golf Cart Sponsor at the Hopeworks Golf Outing, helping to raise funding for youth and teens in Camden.
#18. Innovative was the Supporting Sponsor for Burlington County Shriner's Club's 30th Annual Stag Day Golf Outing, helping them raise funding for thousands of children in our area to receive life-changing care.
#17. Innovative was Gold Sponsor for the Samaritan Healthcare & Hospice Golf Tournament, helping support direct care for their patients and families.
#16. Innovative cooks dinner for Hopeworks and their teenage residents in Camden.
And…we still have half the givebacks planned for the latter half of the year, so stay tuned!
Innovative is proud to be able to support and help the community that has supported and helped them in so many ways over the past 30 years, and we look forward to making these community givebacks a permanent part of our mission, even after the year ends.