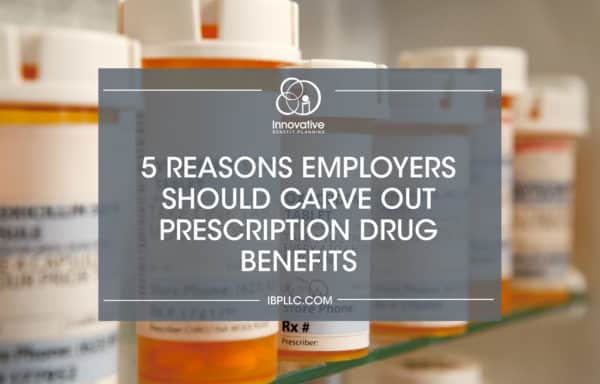 5 Reasons Employers Should Carve Out Prescription Drug Benefits
Prescription Drugs typically makes up 20% of an employer's overall spend, and with the rise in specialty drugs, industry experts expect that number to encroach 50%. Employers have the ability to "carve-out" this coverage from their medical plan, resulting in significant savings. A Prescription Drug "Carve-Out" is when an employer separates, or "carves-out" their pharmacy plan, typically in a self-insured model and contracts directly with a Pharmacy Benefit Manager (PBM) vendor to administer and manage their prescription drug benefits. This opens the door for five areas of savings for employers:
Transparency
A bundled prescription drug plan with an employer's medical plan has little to no transparency. When carved-out, employers get access to useful claims data and more control over costs.
Flexibility and Control with Plan Design
Employers can customize their plan design using utilization data and cost control management strategies to reduce spend.
Guaranteed Average Wholesale Price Discounts
Through Innovative's preferred contracts, employers have enhanced average wholesale price (AWP) discounts that are guaranteed, reducing their overall net ingredient costs. This includes a discount off either a brand name drug, a generic drug, or a specialty drug. Most contracts do not have guarantees on the average wholesale price discount. In fact, many contracts will have what's called effective rate guarantees. Effective rates are not guaranteed, so employers should be mindful of that when reviewing options.
Rebates
When carved-out, employers receive 100% pass through of manufacturer rebates. These rebates can result in significant savings. In fact, on average, Innovative's clients found that the amount of spend that could be returned in rebates was 16%.
Improved Pricing Optics
Last, by carving out, employers have improved or enhanced pricing optics within their contract. For example, pharmacy benefit managers may redefine what a generic drug is, or what a brand name drug is, in their contracts. Under enhanced pricing optics through Innovative's contracts, a generic is a generic and a brand is a brand, there is no reclassification.
Prescription Drug Carve Out is a great way to save 20 to 40% off prescription drug spend. At Innovative, we have preferred contracts with a number of pharmacy benefit managers in the marketplace. We can take a look and compare it to what an organization currently has and see what makes the most sense for them. To learn more about prescription drug carveout, click here.
Contact your account team or email us at info@ibpllc.com today to learn more.