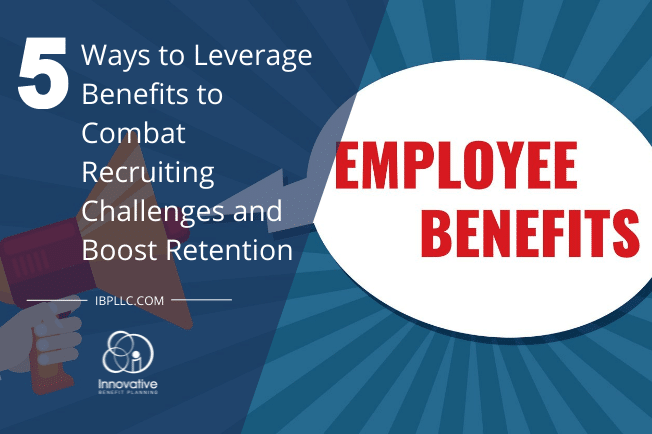 Employers face the toughest job market in recent years as they struggle to recruit and retain employees. Many are having trouble keeping top performers on board, as well as finding qualified candidates for open positions. In fact, the U.S. Bureau of Labor Statistics reported in July that the number of open jobs reached a high of 10.9 million, while the number of people voluntarily leaving their jobs had been climbing sharply since February, totaling four million in April and again in July. Meanwhile, the importance of retaining key employees grows: the Society of Human Sources (SHRM) found the average cost of replacing an employee runs 50% to 60% of their annual salary.
The tight labor market underscores the importance of having a solid benefits package to help employers recruit and retain employees. The combination of competitive pay and attractive benefits provides a key advantage when organizations compete for workers.  The current environment provides an ideal opportunity for employers to review their employee benefits and align them with their recruitment/retention strategy.
How can your firm leverage your benefits to gain a leg up in the job market? Here are five ideas to help you get started.
Emphasize the Value of Benefits
Do your employees understand all the benefits your company provides, and the value provided to them? Often employees do not perceive the true value of the benefits you are providing. Here are some ideas to improve employees' perceived value of those benefits.
1. Provide monthly benefits education on specific topics so they have a deeper understanding and appreciation.
2. Highlight the percentages the employer contributions for benefits. According to the Bureau of Labor Statistics, benefits account for almost one-third of the average company's total compensation costs. Employees sometimes focus on how much they are paying out of pocket without considering that their employers may be spending even more.
3. Underscore benefits that are 100% paid by the employer.
4. Reinforce the value of the entire compensation package: healthcare benefits, retirement plans, paid time off, and other ways they benefit from the company's investments.
Provide Benefits at Competitive Costs
Employees want affordable health insurance and will leave an organization when another employer offers better rates. With COVID surges hitting renewals and many employers facing rate increases, now is not the time to increase employee contributions or deductibles.  Consider the following to ensure you are competitive:
1. Run a quick healthcare benchmark report to help you understand your competitive position in the marketplace.
2. Perform an assessment to determine whether you can reduce or eliminate waste in your plan. When you lower costs, you put more money in your employees' pockets. Even if you received a high renewal increase, it's not too late. See how one company saved $440,000 45 days before renewal.
Offer Lifestyle and Work/Life Balance Perks
Employers must pay attention to the evolving needs of current and prospective employees when designing benefit packages. In recent years more companies have expanded benefits such as flexible hours that better balance the demands of the job against employees' personal lives. For example, the work-from-home environment over the past 18 months significantly changed expectations for many employees.
Be flexible with benefits and policies to meet the ever-changing needs of your workforce. If you are able to offer a remote option, for example, you can increase employee satisfaction while reducing office expenses. You don't want to lose workers to another company offering more flexible provisions.
Prioritize Well-Being
The coronavirus pandemic and resulting global shutdown have been difficult for everyone. Organizations that make employee well-being a priority can gain a competitive edge in the job market while supporting healthier and happier workers. Examples to boost wellbeing include offering:
1. Mental health support. The Centers for Disease Control found the number of adults reporting anxiety or depressive disorder symptoms rose from 11% in 2019 to 41.5% by mid-2020.
2. Wellness initiatives. A survey by the American Psychological Association found 42% of adults gained an average of 15 pounds as a result of pandemic stress. The study also said two-thirds of people saw sleeping patterns decline and 25% were using alcohol to cope with their stress.
3. Financial well-being plans. The economic downturn and job losses that accompanied pandemic increased employees' focus on their current financial health. It also heightened awareness of their need to prepare for future retirement.
Create a Communication Strategy
We can't assume our employees and prospects are as familiar with your benefits package as we are. A 2021 survey by Voya Financial found 35% of employed individuals said they did not understand all the benefits they signed up for during their most recent open enrollment period.
A solid communication strategy informs current and potential employees about what you have to offer and how valuable those benefits are.
1. Emphasize how your package differs and why it is better than your competitors' offerings.
2. Incorporate technology to make it easier to employees to comprehend and use the benefits.
3. Make benefits front and center when talking to employees and recruits.
4. Communicate your message consistently and clearly. Shout it from the rooftop!
These five steps can go a long way towards improving employee retention and recruitment. We know these are busy times for HR departments, but now really is the opportune time to evaluate your benefits and costs and see how they line up with your competitors. You can rely on Innovative Benefit Planning's proven expertise to help you benchmark and assess your current package and explore options to enhance your benefits. Contact us today to get started.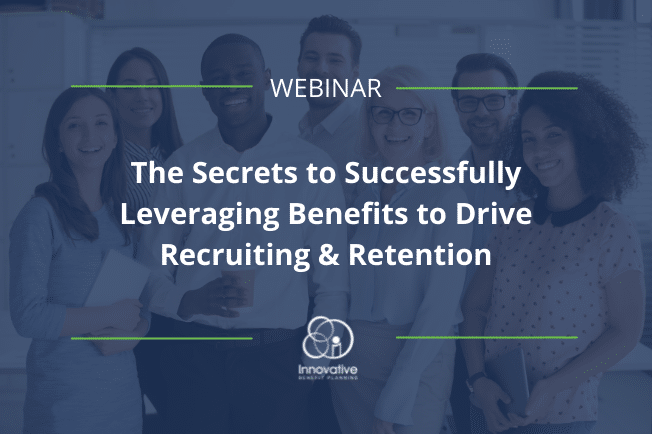 WEBINAR:
The Secrets to Successfully Leveraging Benefits to Drive Recruiting & Retention
On Thursday, October 28th, 2021, Innovative's CEO, Terriann Procida, Managing Partner of Employee Benefits, Dan Jordon, and Vice President of Marketing & Engagement, Jamie Bratton, discussed the importance of having a solid benefits package to help companies recruit and retain employees. Download our webinar recording below to learn more about leveraging your employee benefits package.