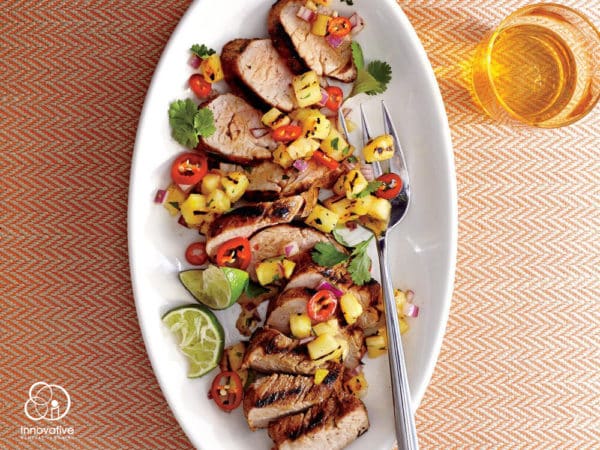 Caribbean Grilled Pork Tenderloin with Grilled Pineapple Salsa
Ingredients:
Cooking spray
1 tablespoon salt-free
Caribbean jerk seasoning
½ teaspoon kosher salt, divided
1 (1-pound) pork tenderloin, trimmed and halved crosswise
4 (½ inch thick) slices of fresh pineapple
¾ cup diced red onion
¼ cup chopped fresh cilantro
3 tablespoons extra-virgin olive oil
2 tablespoons fresh lime juice
1 Fresno chile, thinly sliced
Directions:
Step 1: Preheat grill or grill pan to medium-high heat.
Step 2: Coat grill rack with cooking spray. Rub jerk seasoning and 1/4 teaspoon salt evenly over pork. Add pork to grill; grill 12 to 14 minutes or until a thermometer registers 145°, turning occasionally.  Place pork on a platter. Cover with foil; let stand 5  minutes. Cut across the grain into slices.
Step 3: Coat grill rack with cooking spray. Arrange pineapple slices on grill; cook 3 minutes on each
side or until well-marked. Remove from grill, chop. Combine pineapple, remaining 1/4 teaspoon salt, onion, and remaining ingredients in a bowl. Serve with pork.