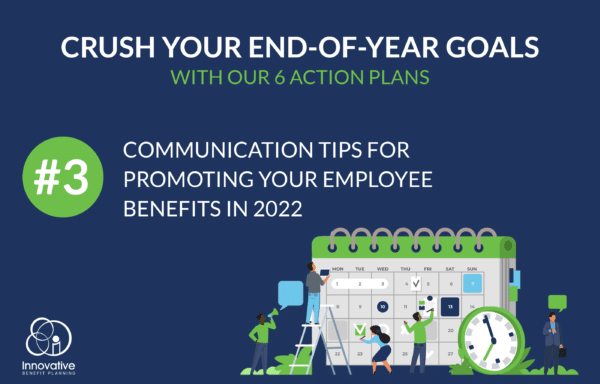 Our Vice President of Marketing and Engagement, Jamie Bratton, shares eight techniques to help promote your employee benefits in the new year.
Effectively communicating your employee benefits to current employees and potential new hires goes a long way towards meeting your retention and recruitment goals. Marketing techniques are designed to motivate and enable people to follow recommendations.  For employee benefits, your goal is to motivate employees to comprehend and access the benefits your organization provides. You want your benefits top of mind and front and center so they see the value you offer, and to encourage them to use what they have available.
Promoting your benefits internally and externally brings numerous rewards. If your employees do not understand your benefits package, they will not value those benefits as highly. Robust benefits are also necessary to attract potential new hires. According to recent studies, 60% of candidates surveyed said benefits and perks are a major factor in considering whether to accept a job offer. Also, 48% listed benefits as the top factor that attracts them to a position – even more important than a higher salary (46%). You can't wait till the interview process to start touting your competitive benefits because it could influence whether someone applies. Showcase your benefits early: potential candidates need to see them while deciding whether to apply with your organization.
With those factors in mind, let's review some best practices to keep benefits top of mind as you enter the New Year:
Communicate year-round
You need to be communicating each and every month. Merely explaining benefits at open enrollment annually is not very effective. Employees are busy, distracted, and can't absorb all the information at once. Plus they may simply forget. Year-round communication encourages and empowers your employees to make wise benefit decisions and to take better care of themselves – plus it saves you money when they are healthier. Moreover, it improves the perceived value of your benefits program.
Develop and Document a Communication Calendar
Communicating every month does require planning. Unfortunately, trying to wing it each month will not work: we're all too busy. The most successful plans are ones that are thought out in advance. Schedule an annual communication meeting that includes your marketing team, and be sure to leverage your broker. During this hour-long meeting, discuss the goals and plan designs you want to highlight. Leverage monthly and seasonal observances (such as men's health month or mental health awareness month) to help promote components of your plan. The goal of the meeting is to come up with 12 topics to highlight – one for each month.
Build the Employer Brand
While communicating, be consistent in your company branding. Use your logo, colors, font, and tone every time. When something is well-branded, it elevates the perception and value of what you are saying. Furthermore, consistency builds brand recognition and employees (or potential employees) start to pay attention. Research indicates that 75% of candidates research a company's reputation online before applying for a job. A well-positioned employer brand also reduces turnover by 28%. Solid branding improves employee engagement while differentiating you from your competition.
How You Say it Matters
The classic marketing consideration of communicating "What's in it for me?" definitely applies when promoting your benefits. Although listing the features and benefits of your plan is certainly accurate, it may not be effective. Simply listing features and benefits fails to create an emotional connection with your employees because those details are not truly what matters to them. Instead, define the problem or need they have, and then speak to that need. People buy and listen when you offer solutions to a problem they have. Video storytelling is a great way to do this. When someone shares a personal story of how a benefit helped them, it creates an emotional connection and resonates with employees. For example, when promoting telemedicine, you could list the features and benefits, such as lower costs, 24/7 access, board-certified doctors. However, if you apply the "what's in it for me?" concept, you could take a promotional approach such as, "Imagine next time your son or daughter is sick, you don't have to take them out of their bed and wait in a doctor's office." The second way is relatable, offering something an employee can envision and a reason to use it.
Use Push, Pull, and Interactive Communications
When communicating your benefits, you should incorporate all three communications techniques — push, pull and interactive. Push communication is when benefit information is provided directly to the employees, such as via texts, emails, or printed material.  Pull communication is when the employee proactively retrieves the information when he/she needs it, such as accessing website/digital OE guides, intranet sites, mobile apps, benefits administration portals, videos, or social media groups. Interactive platforms allow for two-way communications and for questions to be asked and answered. These platforms include live webinars/Q&A sessions and direct employee advocacy. The most effective communication strategy uses all three for maximum impact.
Provide Online Access
Prior to COVID-19, many employers distributed printed guides. The pandemic and remote work may have forced adoption of online technology at a more rapid pace, but it is actually one area that experienced huge improvements as a result. Printed guides were often tossed in a drawer and not readily available when needed, leading to employees not utilizing their plan as well as they could have. By contrast, online web tools provide employees easy access to their benefit information with few barriers. Printed materials also have limitations for incorporating educational audio and video, or with providing employers with vital back-end analytics. Online access makes benefit information readily available to your employees when they need it and lets you know what data they are seeking.
Use Multichannel Marketing
Multichannel marketing matters because it allows you to be where your employees or potential employees are. The more places you have a presence, the more likely you will reach them!
For recruiting, share your information on your career page, recruiting events, offer letters, social media, and job sites such as Glassdoor. Fifty percent of job seekers said lack of information about pay and benefits was the top reason their job search was stressful. For example, you could include a QR code in the offer letter that takes them to a landing page that explains the great benefits you have. Include videos to provide more impact!
For retention, communicate through email, monthly newsletter, breakroom bulletin boards, health fairs, webinars/seminars, texts, OE websites, and social media (using your own hashtags).
Maximize the Influencers
The best brand ambassadors are not you, your marketing department, or your leaders — it's your employees! These are your influencers: the people who are going to talk up your workplace, your benefits, and your culture. Employees have influence and impact, so leverage that influence:
Encourage them to share with others. Train new and existing employees on how and where this can be done.

Make it easy for them to share and post. Have props or signs available at health fairs, OE Sessions, or on employee anniversaries to promote sharing.
Develop a Brand Ambassador Committee that focuses on building and growing the program.
As you prepare to start 2022, spending an hour to map out your employee benefits communication plan goes a long way towards ensuring a successful year.  Communicating your benefits frequently and effectively sets the tone for better retention and more robust recruitment activities. Create clear, easy-to-find messaging that lets employees and prospective recruits know "What's in it for me?" Answering that question provides more value for them and for your organization.
For more information on Innovative's employee engagement solutions, contact us here.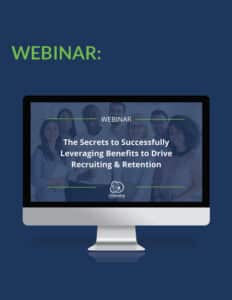 The Secrets to Successfully Leveraging Benefits to Drive Recruiting & Retention
Now more than ever, this tight labor market underscores the importance of a solid benefits package to help companies recruit and retain employees. Download a recording of our webinar now to better leverage your benefits!