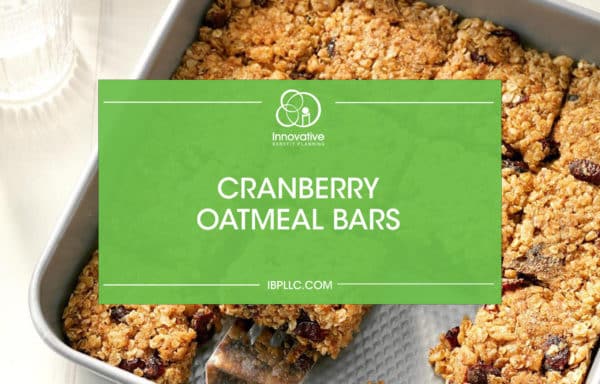 Cranberry Oatmeal Bars Recipe
Ingredients:
1 ½ cups quick cooking rolled oats
1 cup all-purpose flour
⅔ cup brown sugar
¼ cup whole wheat flour or all-purpose flour
¼ cup flaxseed meal
½ tsp baking soda
½ cup fat free milk
2 egg whites, lightly beaten
1 tsp vanilla extract
¼ cup dried cranberries
3 tbsp butter
¼ cup chopped pecans or almonds
Directions:
Preheat oven to 350 degrees. In a bowl, stir together oats, all-purpose flour, brown sugar, whole wheat flour and flaxseed. Set aside ½ cup for topping. Stir baking soda into the remaining oat mixture.
In another bowl, whisk together milk, oil, egg whites, and vanilla. Add to the oat mixture and stir until combined. Stir in cranberries. Pat mixture into a foil-lined 9x9x2 inch baking pan.
Using a pastry blender, cut butter into reserved topping and then stir in pecans. Sprinkle over mixture in pan. Bake 20-25 minutes or until center is set. Cool on a wire rack.
Serves 20 (serving size is 1 bar)