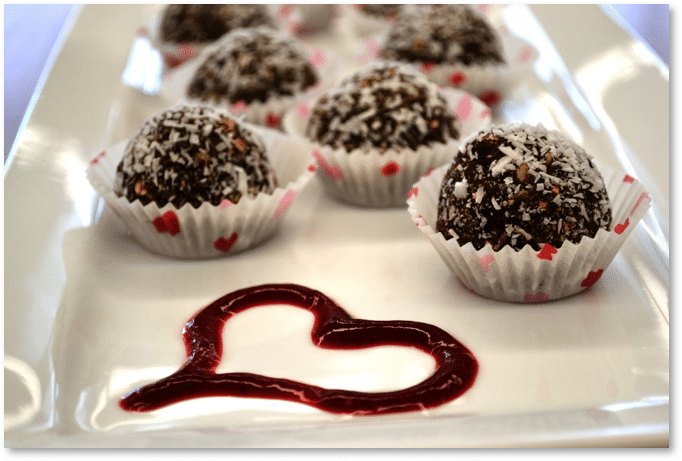 Easy, Healthy Valentine's Day Treats and Snacks
February 12th, 2020
A few whole grains here, a little less fat there, add some fruit and suddenly you have Valentine's Day treats that are a nutritious and delicious way to say, "I love you".
Chocolate Dipped Fruit; Gluten-free Vegan
Ingredients
1 cup (8 ounces) semi-sweet chocolate
18-24 bite size pieces of fresh fruit (strawberries, cantaloupe, pineapple, honeydew, banana, grapes, kiwi)
Optional: wooden skewers
Optional garnish: sprinkles or chopped nuts
Directions
Melt chocolate in microwave-safe bowl on high for 1 minute (or in a double-boiler)
If using skewers, spear fruit onto skewer prior to dipping
Dip fruit pieces about 2/3 of the way into chocolate, gently tap off excess
If desired, sprinkle nuts or sprinkles over the chocolate
Lay pieces on wax paper to cool, refrigerate until ready to serve
Serves 8 (About 2-3 pieces per serving, depending on size of fruit), Prep time: 15 min
Cake Batter Energy Balls
Ingredients
½ cup raw cashews
½ unsweetened coconut flakes
1 cup oats
2 dates
3 TBSP cashew butter
3 TBSP maple syrup
1 tsp vanilla extract
1 TBSP all-natural sprinkles
2 TBSP Coconut butter
Directions
Add cashews, coconut, oats, and dates into a food processor. Process on high until crumbly.
Add in cashew butter, syrup, vanilla and blend again until dough forms. Optional: add 1 TBSP unsweetened cocoa powder to obtain the chocolate flavor pictured above.  If needed, add 1 TBSP water at a time if dough is not forming.  Pulse in sprinkles.
Remove the lid and form into balls.
Transfer to a plate and drizzle with melted coconut butter. Top with sprinkles to finish. Enjoy immediately, or cool in refrigerator for at least 30 minutes.
Nutrition Facts
Per Serving:
1 ball = 4g fat, 85 calories, 10g carbs, 4g sugar, 2g fat