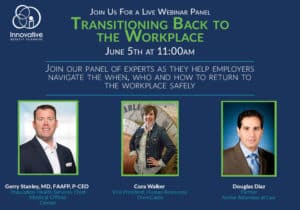 Map Unavailable
Date/Time
Date(s) - Jun 05, 2020
11:00 am - 12:30 pm
The COVID-19 pandemic has disrupted the way we operate our workplaces across the country. While it's still unclear how long it will continue to affect organizations, many employers are beginning to prepare for employees to return to the workplace.
To assist in with the transition, Innovative Benefit Planning has prepared a panel of experts to help employers navigate the when, who and how to return to the workplace safely.
During this 90-minute webinar, our panelists will discuss:
When is the appropriate time to consider re-opening
How to determine "who" should come back to the physical workspace and what measures should be put in place to allow for flexibility
What safety protocols should be considered, such as physical modifications, cleaning procedures, behavioral best practices, and temperature checks
How to effectively communicate and train employees so they become a part of the solution to keep everyone safe
Successes and lessons we can take away from this experience as we move into our "new normal"
Join us for our live webinar panel on Friday, June 5th at 11:00am as Gerry Stanley, MD, FAAFP, P-CEO, Chief Medical Officer at Cerner, Douglas Diaz, Esq., Partner at Archer Attorneys at Law, and Cora Walker, Vice President, Human Resources at OmniCable, discuss these topics and take your questions live.
Cora Walker
Vice President, Human Resources, OmniCable
Cora Walker has over 20 years of human resources, generalist experience in a variety of industries.  She joined OmniCable, a premier redistributor of wire and cable, electrical products and value-added services, as the Vice President of Human Resources in 2018.   As a member of the Executive Leadership Team, Cora is responsible for the strategic and day-to-day operations of OmniCable's Human Resources and Process Improvement Departments.  She partners with leaders in the organization to ensure the human-capital focused goals of Omni Cable are achieved and employees are connected to the company's mission.
Gerry Stanley, MD, FAAFP, P-CEO
Population Health Services Chief Medical Officer, Cerner
As the Chief Medical Officer for Population Health Services and Consumer-Employer Solutions, Gerry has executive responsibility for clinical outcomes across the organization as well as maintaining client facing strategy for their population's health.  Within the population health community, he brings a background focused on clinical innovation, novel and alternative payment models, accountable care, independent physician associations, clinically integrated networks, mergers & acquisitions, and advanced worksite health solutions.
Douglas Diaz
Partner, Archer Attorneys at Law
Douglas Diaz concentrates his practice in labor and employment law matters where he listens to clients to resolve their issues and disputes consistent with their goals. Mr. Diaz is an experienced litigator who has successfully defended employers in both state and federal courts as well as before administrative agencies such as the New Jersey Division on Civil Rights, the Pennsylvania Human Relations Commission and the EEOC. He routinely defends against a variety of employment-related claims such as those pertaining to discrimination, retaliation, wrongful discharge, restrictive covenants and wage and hour issues.