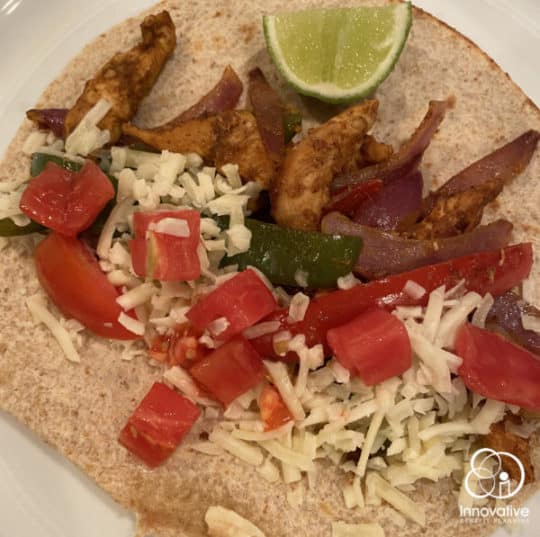 Fresh and Healthy Fajitas
Ingredients:
16oz boneless skinless chicken breasts
1red bell pepper, cut into strips
1green bell pepper, cut into strips
1 yellow bell pepper, cut into strips
1medium red onion, cut into strips
3tbsp lime juice
salt and pepper to taste
3 TBSP of fajita seasoning
2tsp olive oil
8reduced-carb whole wheat flour tortillas, or corn tortillas for gluten free
Fajita Seasoning:
1 TBSP cornstarch
2 tsp chili powder
1 tsp salt
I tsp paprika
½ tsp onion powder
½ tsp garlic powder
¼ tsp cayenne powder
½ tsp ground cumin
Instructions:
Marinate the chicken with lime juice, and season with fajita seasoning.
Season vegetables with salt and pepper and toss with olive oil.
Use a large skillet on the stove over medium heat and saute veges, cover with a lid until they are soft, then remove from skillet.
Cook chicken with a tablespoon of olive oil until cooked through.
Transfer to a cutting board when done and cut into strips. Once cooked, combine with the peppers and onions.
Serve immediately with warmed tortillas, cheese and toppings.
Optional Toppings:
1/2cup reduced fat shredded Mexican cheese
reduced fat sour cream or greek yogurt
guacamole
salsa
chopped cilantro