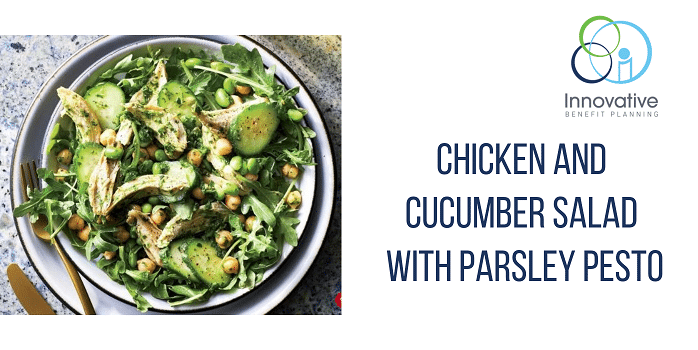 Innovative Workplace Wellness is invested in supporting your business through the health of your employees. According to the Centers for Disease Control and Prevention (CDC), chronic disease accounts for 75% of total healthcare costs. With an employer-sponsored wellness program, you can provide targeted health education and resources needed by your employees to create a healthier workforce. Wellness programs help to build team camaraderie and a "culture of wellness," which in turn, leads to happier, healthier, more productive employees.
At Innovative, we are committed to a healthy lifestyle, that's why we like to share our healthy tips and tricks with you! Below you will find a healthy summer recipe to create at home.
Chicken and Cucumber Salad with Parsley Pesto
Ingredients
2 cups packed fresh flat-leaf parsley leaves (from 1 bunch)
1 cup fresh baby spinach
2 tablespoons fresh lemon juice
1 tablespoon toasted pine nuts
1 tablespoon grated Parmesan cheese
1 medium garlic clove, smashed
1 teaspoon kosher salt
1/4 teaspoon black pepper
1/2 cup extra-virgin olive oil
4 cups shredded rotisserie chicken (from 1 chicken)
2 cups cooked shelled edamame
1 (15-oz.) can unsalted chickpeas, drained and rinsed
1 cup chopped English cucumber
4 cups loosely packed arugula
Directions
Combine parsley, spinach, lemon juice, pine nuts, cheese, garlic, salt, and pepper in bowl of a food processor; process until smooth, about 1 minute. With processor running, add oil; process until smooth, about 1 minute.
Stir together chicken, edamame, chickpeas, and cucumber in a large bowl. Add pesto; toss to combine. When ready to grill, heat grill to high. Oil grates and add chicken, then grill until charred, 8 minutes per side. Place 2/3 cup arugula in each of 6 bowls; top each with 1 cup chicken salad mixture. Serve immediately.
For more information about initiating an employee wellness program, contact the Innovative Workplace Wellness Director, Mercedes Gutierrez, at wellness@ibpllc.com.
Innovative's Workplace Wellness
Innovative's Workplace Wellness assists employers in creating a culture of health. Our skilled wellness team works hand-in-hand with organizations to design and implement customized wellness programs that improve your population health and ultimately lower claims costs. Workplace wellness is more than keeping your team physically healthy. It's about empowering employees to be their best, creating a fully engaged staff and making them advocates of their health. We help employers focus on each individual employee, guiding your team to effectively manage their own mental, physical, and emotional energy so your employees and your business thrive. To learn more, visit here.