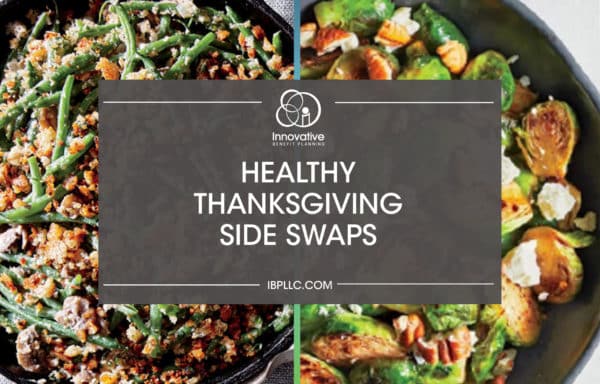 Healthy Thanksgiving Side Swaps
Who doesn't love the tasty sides that come with a traditional Thanksgiving meal? Why not try
something a little healthier this year along with your staples!
Tangy Glazed Brussel Sprouts
Ingredients:
3 tbsp olive oil
¼ tsp ground cardamom
⅛ tsp crushed red pepper
1 lb trimmed and halved Brussels sprouts
¼ cup pomegranate juice
3 tbsp white balsamic vinegar
Optional: 1 oz crumbled feta cheese and 3 tbsp chopped toasted pecans
Directions:
Heat olive oil, ground cardamom, and crushed red pepper in a skillet over medium-high heat.
Add Brussels sprouts and cook until browned, about 7 minutes.
Add pomegranate juice and white balsamic vinegar. Cook until sauce is syrupy, another 5 to 6 mins.
Top evenly with feta cheese and toasted pecans.
Serves 4 (serving size is ¾ cup)
Skillet Green Bean Casserole
Ingredients:
1 lb green beans
2 slices whole-wheat bread
¼ cup chopped parsley
3 tbsp olive oil
½ tsp chopped garlic
6 tbsp parmesan cheese
½ cup chopped yellow onion
4 oz white mushrooms, sliced
1 ½ tbsp all-purpose flour
½ cup unsalted chicken stock
½ cup milk
2 tbsp dry sherry
½ tsp salt
¼ tsp black pepper
⅛ tsp ground nutmeg
Directions:
Cook beans in a saucepan filled with boiling water for 3 mins or until crisp-tender.
Plunge beans into ice water and drain.
Place bread in a food processor and pulse until coarse crumbs form.
Stir in parsley, 1 tbsp oil, garlic and 2 tbsp cheese.
Heat remaining oil in a skillet over medium.
Add onion and mushroom and sauté for 8 mins.
Stir in flour. Stir in stock, milk, and sherry. Bring to a simmer and cook for 3 mins.
Remove from heat and stir in remaining cheese, salt, pepper, and nutmeg.
Add beans to pan and toss to coat. Sprinkle evenly with breadcrumb mix. Broil for 2 mins.
Serves 8 (serving size is ½ cup)