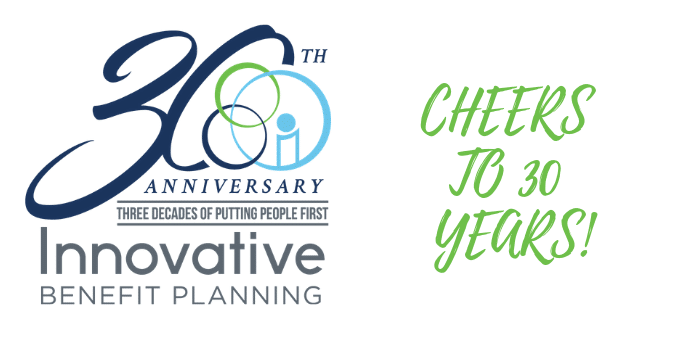 As we enter 2019, Innovative Benefit Planning celebrates 30 years of success as a national, employee benefit, and financial services company.  Founded in 1989 by Terriann Procida and Mark Sulpizio in Mt. Laurel, NJ, the firm's vision was to provide unique employee benefit consulting and financial planning services to businesses and their executives in the Philadelphia/Southern New Jersey region.  Terriann and Mark started the company with one simple objective, to always put people first, and it's this exact mission that has led the company to triple in size, expand practice areas and grow from a regional service area to a national company with an admirable reputation for work ethic, integrity, credibility and experience.
Over the course of 30 years, Innovative's history of outstanding service, pioneering turn-key, cost-saving plans, and technical expertise in the areas of employee benefits, financial planning, population health management and HR consulting have resulted in substantial growth and a distinguished client retention rate.
"This is an incredible milestone for Innovative, but it truly is the people behind our organization that makes it successful," remarked co-founder Mark Sulpizio. "We couldn't have succeeded the last 30 years without our talented, dedicated team and the trust and loyalty of our clients."
Since inception, Innovative has been committed to delivering exceptional service by reacting quickly to the needs of the market and adding necessary services and reports that will assist our clients in meeting both their compliance and advocacy goals.
"Innovative has experienced exceptional growth and development over the last 30 years," stated CEO, Terriann Procida. "Looking ahead, we look forward to continuing our tradition of ensuring the welfare of our clients and advising them on how to achieve their business and financial objectives."