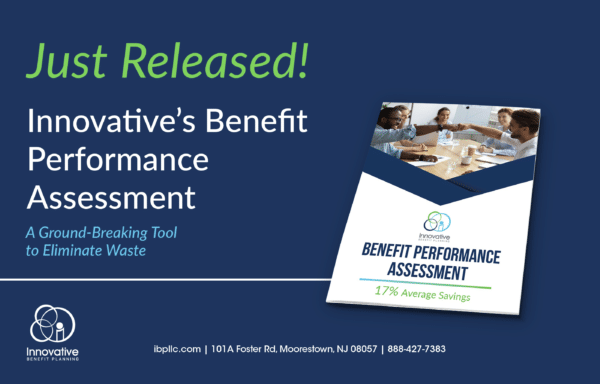 Innovative Launches New Groundbreaking Benefit Performance Assessment
Innovative has launched our new groundbreaking, proprietary Benefit Performance Assessment. This complimentary assessment shows employers how they can cut waste, take control of healthcare costs, and provide better service solutions. All within an hour of your time and without impacting the coverage offered to employees!
It's unfortunate, but the same cookie-cutter method has been applied to middle market benefits for decades now. Employers continue to experience a lack of creativity, a broken under-writing system, and lack of a data-driven approach. Rightfully so, they are frustrated of the rising cost and lack of clarity. Here at Innovative, we knew it was time to show employers a new way at looking at things, and something you haven't seen before.
Our assessment reviews five key performance areas that are essential for a successful benefit program:
Identify & Eliminate Waste
Identify many ways that waste and inefficiencies are occurring inside the benefit program and contributing to higher costs.
Create Stability
Utilizing our underwriting method, we put in place proper plan alignment strategies to create stable renewals, year over year.
Risk Management
Uncover and identify gaps and holes in stop loss contracts and plan agreements. Also look at the population health data to see if there are emerging risks.
Engage Employee
We will review the latest technologies and resources available to ensure you are deploying the best solutions to empower your employees.
HR/Compliance Support
We will identify ways to provide resources, guidance, and tools to streamline the process, and reduce any risks or exposures.
After performing dozens of assessments during our validation phase, we have been able to save employers an average of 17% in year one alone. And providing these savings without impacting the employees through higher deductibles or contributions! Which is not the answer in a tight labor market.
After a quick thirty-minute call, we will deliver in one week a detailed report of how your organization is performing.
Are you ready to take control of your benefits program and its rising costs while still maintaining the same level of benefit quality? Contact us below to speak about our complimentary assessment.