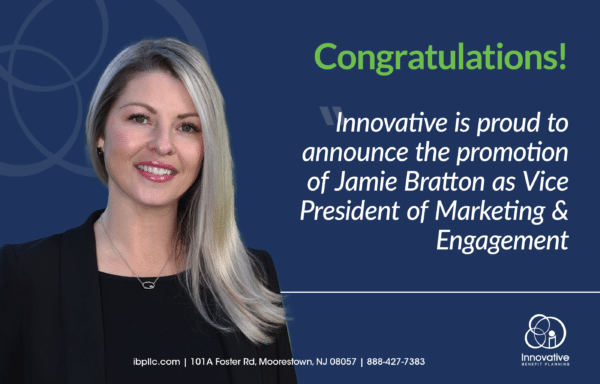 Innovative Promotes Jamie Bratton to Vice President of Marketing & Engagement
Innovative Benefit Planning is pleased to announce it has promoted Jamie Bratton to the position of Vice President of Marketing and Engagement.
In her new role, Jamie will continue to manage, establish, and implement strategic and tactical communication plans across every business unit. In addition, as a valuable asset to our client's employee engagement strategy, Jamie and her team will work with the account team in developing custom communication plans that drive employee engagement and better understanding of their benefits.  She is also responsible for evolving Innovative's brand through creating new products and services for current and future clients.
Since Joining Innovative three years ago, Jamie has brought vision and passion to our team and clients. She has a successful track record in building and executing strategic go to market strategies that benefit our clients and brand, including the launch of our digital interactive guides, annual wellness summit, employee education video library, and our advanced online benchmarking survey logic tool.
"Jamie's wealth of experience in creating strategic marketing plans has enabled her to effectively connect with our internal and external audiences," said Terriann Procida, CEO. "Her new role positions Jamie to provide even more valuable resources to our clients and prospective customers."
Jamie joined Innovative three years ago as Director of Marketing. Before joining Innovative, she spent 15 years in various marketing positions where she specialized in developing innovative and strategic marketing and business development programs. She started her career in dental medical devices as a Marketing Communications Manager, and later worked with a local law firm to create print and digital marketing campaigns. She graduated from West Chester University with a degree in Marketing.
Jamie is involved in many professional and volunteer initiatives, including current Chairs of the United Benefit Advisers Marketing Collaboration Group and the annual Samaritans Hospice Celebration of Life Gala.
Please join us in congratulating Jamie!