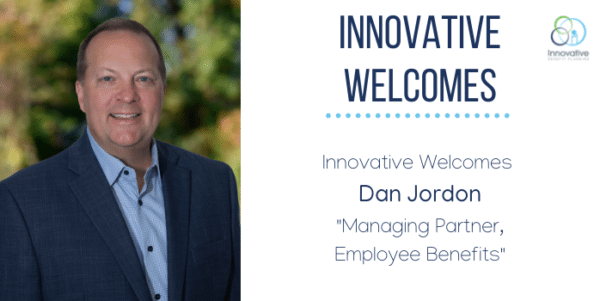 Innovative Welcomes Dan Jordon as Managing Partner, Employee Benefits
It is with great excitement we announce that prominent employee benefits consultant, Dan Jordon, has joined the Innovative team as Managing Partner of Employee Benefits. As part of the Executive Leadership team, Dan will play an essential role in driving the company's business revenue, while empowering and supporting our clients in their effort to build strategic, stable, benefit offerings. This role includes managing our employee benefits consulting practice, continuing to build our sales team, and participate on our ongoing desire to enhance the client service and engagement experience.
"As a respected leader, Dan is an outstanding addition to our team and clients. He brings extensive experience in helping employers reduce cost and delivering multi-year strategies that generate cost savings", stated CEO, Terriann Procida. "We're excited to merge his background with Innovative's strengths to continue to provide a best-in-class service while growing the firm and servicing our clients."
Dan brings over 14 years of benefit consulting experience, including the last 8 years for the Graham Company as Managing Director. During this time, Dan managed a team of high-performing consultants that worked with middle market employers to develop strategic health plan designs. Dan has extensive experience in helping employers reduce costs and deliver measurable results through his refined Benefits Audit analysis and advanced cost containment strategies.
"When considering joining Innovative, I was attracted to their deep history of delivering innovative, customized solutions while always putting their client first", remarked Jordon. "We both understand the challenges in the health care system and together, I look forward to developing creative solutions that will combat market forces and put our clients in a position to win."
Please join us in welcoming Dan to the Innovative team! djordon@ibpllc.com