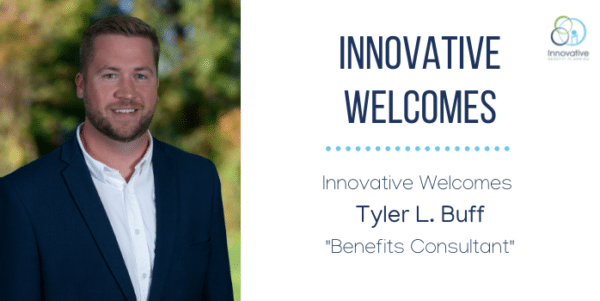 Innovative Welcomes Tyler L. Buff to our Team as a Benefits Consultant
We are pleased to announce that the Innovative team continues to grow! Please join us in welcoming Tyler L. Buff to our team as a Benefits Consultant.  Tyler will focus on understanding the customer needs and assist in developing strategies to increase efficiencies and results. As a Benefits Consultant, Tyler will develop and maintain relationships with external vendors to educate and promote solutions in the marketplace. In addition, he will work closely with the Benefits Retention Team to develop long-term benefit strategies that support our customer relationships.
Prior to joining Innovative, Tyler spent the last eight years in various account executive positions, including most recently as the District Manager with ADP Total Source. During this time, he worked closely with clients to develop benefit strategies based on the company goals and employee census. Tyler received his Bachelor of Arts degree in Business Studies from Stockton University. As a baseball player at Stockton, he continues to follow the sport as a Mets fan.
"Tyler's extensive background as a sales executive and his experience in benefits will help us build mutually beneficial relationships with our clients and vendors," remarked Managing Partner, Employee Benefits, Dan Jordon.  "We look forward to his contributions to our clients and team."
We are excited to have Tyler join our growing team at Innovative.