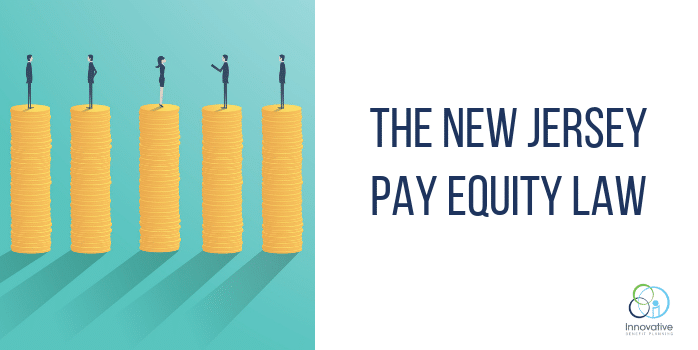 As of July 1, 2018, the Diane B. Allen Equal Pay Act ("the Act"), which amends the New Jersey Law Against Discrimination ("LAD"), went into effect in New Jersey. The Act applies to all New Jersey public and private employers regardless of size, except federal employers.
https://www.njleg.state.nj.us/2018/Bills/S0500/104_R2.PDF
Pursuant to the Act, it is unlawful for an employer to pay a member of a protected class at a rate of compensation, including pay and/or benefits, lesser than that paid to employees who are not members of the protected class for "substantially similar" work unless justified by a legitimate business necessity.  The protected classes under the LAD include race, creed, color, national origin, nationality, ancestry, age, sex, pregnancy, familial status, marital status, domestic partnership or civil union status, affectional or sexual orientation, gender identity or expression, atypical hereditary cellular or blood trait, genetic information, liability for military service, and mental or physical disability, perceived disability, and AIDS and HIV status.
To determine if positions involve "substantially similar work," employers must examine "a composite of skill, effort, and responsibility" required in the positions being compared. Employers must look beyond job titles and examine what duties, skills and responsibilities are expected in the positions.  Comparison of compensation under the Act would be based on wage information "in all of an employer's operations or facilities" throughout New Jersey for employers with multiple locations.
Employers must prove that any difference in compensation for positions involving substantially similar work is due to a seniority system, a merit system, or by satisfying all of the following five factors:
That the differential is based on one or more legitimate, bona fide factors other than the characteristics of members of the protected class, such as training, education or experience, or the quantity or quality of production;
That the factor or factors are not based on, and do not perpetuate a differential in compensation based on sex or any other characteristic of members of a protected class;
That each of the factors is applied reasonably;
That one or more of the factors account for the entire wage differential; and
That the factors are job-related with respect to the position in question and based on a legitimate business necessity.
However, a factor that is purported to be based on business necessity will not satisfy this test if there are alternative business practices that would serve the same business purpose without producing the wage differential.  Employers are prohibited from reducing the rate of compensation of any employee in order to achieve compliance with the new law.
The Act extends the LAD's statute of limitations period for compensation-related claims from 2 years to 6 years, which means an employee could be awarded up to 6 years of back wages.  The Act further provides that the limitations period would restart upon the issuance of each paycheck that was made based on a discriminatory compensation decision, which is known as "the continuing violation doctrine," and results in the statute of limitations starting over with every new violation.  In addition, employers are barred from entering a contract with employees to shorten or waive a limitations period or "any of the protections" provided under the LAD.
Employers in violations of the Act could face damages including back pay and triple damages awards.
The Act expands the definition of retaliation under the LAD to prohibit employers from taking adverse action against an employee who requests from, discusses with, or discloses to: (i) any other employee or former employee, (ii) the employee's lawyer, or (iii) any government agency:
any information regarding job title, occupational category, and rate of compensation (including benefits) of the employee or any other current or former employee, or
information regarding the gender, race, ethnicity, military status or national origin of the employee or any other current or former employee.
Such requests would be protected from retaliation even if they are never responded to by the employer, attorney or government agency. This provision expands the current protections under the LAD, which prohibit retaliation only where the purpose of such a request is to assist in investigating or taking legal action regarding potential discriminatory treatment concerning compensation.
In addition, the Act will protect individuals from retaliation who have sought legal advice or shared information with a government entity or legal counsel in connection with their rights under the LAD, and it will be an unfair employment practice to require that, as a condition of employment, any employee or prospective employee sign a waiver or otherwise agree not to make any such protected requests or disclosures.
Companies granted contracts with New Jersey state agencies will be required to prepare and submit compensation reports that compare the pay of female and other protected employees to that of other workers within the same job categories and pay bands.
The new pay equity law may result in a larger number of wage discrimination claims for New Jersey employers.  Employers should examine the fairness of their pay systems to ensure compliance with the law and reduce their risk of wage discrimination claims. Download our quick reference guide here: 7 Things You Need to know about the NJ Pay Equity Law.