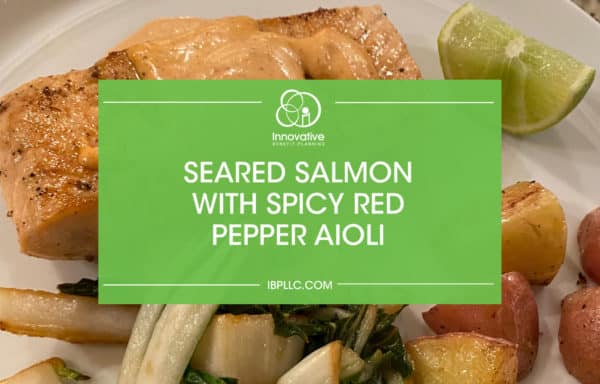 Seared Salmon with Spicy Red Pepper Aioli
Ingredients
2 cloves garlic, minced
1 Tablespoon chipotle pepper in adobe sauce, chopped
1 Tablespoon freshly squeezed lime juice
¼ cup jarred roasted red peppers, chopped
1 cup mayonnaise
Kosher salt & fresh black pepper
4 (6-ounce) boneless, skinless, center-cut salmon steaks
Olive oil
1 lime, quartered for serving
Directions
Preheat oven to 400 degrees
Aioli:
Combine garlic and chipotle peppers to make a course paste.
Place paste in food processor along with lime juice, roasted red peppers, and puree.
Add the mayo, ¼ teaspoon salt & pepper, process until smooth.
Salmon:
Heat dry cast-iron skillet over high heat for 5 minutes.
Place salmon fillets on a board, pat dry with paper towels, and rub all over with olive oil.
With the fillets rounded side up, sprinkle them with 1 ½ teaspoons salt and ¾ teaspoon black pepper.
Place salmon in skillet rounded side down and cook over medium-high heat for exactly 2 minutes without moving.
Using large metal spatula, turn fillets rounded side up and place the skillet in oven.
Roast for 3-4 minutes, until centers are rare.
Cover the pan loosely with aluminum foil and allow the salmon to rest for 3-4 minutes for medium-rare or 5 minutes for medium.
Serve the salmon hot with the aioli and a wedge of lime for squeezing.
*Recipe by Ina Garten