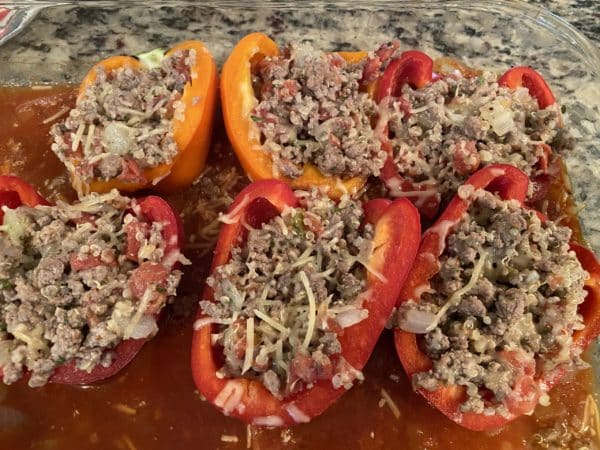 Stuffed Pepper Recipe
Ingredients:
Sauce
1 onion, diced
1 TBSP olive oil
2 cups marinara sauce1 cup beef broth 1 TBSP balsamic vinegar
1/4 tsp red pepper flakes
Peppers
6 medium peppers, any color, cut in half lengthwise (seeded)
1 lb ground lean beef or turkey
1 cup brown rice or cooked quinoa
10 oz can diced tomatoes
1/4 cup fresh parsley or 1 TBSP dried
4 cloves garlic, minced
2 tsp salt
1 tsp fresh ground pepper
Pinch cayenne pepper
1 cup grated Parmesan cheese
Directions:
Preheat oven 375. Cook rice or quinoa according to directions. Cook onion in olive oil until soften then transfer half of onions to large bowl for pepper mix.
Stir into remaining onions the sauce, broth, vinegar and pepper flakes. Cook for 1 minute. Pour sauce into 9 x 13 baking dish. Arrange peppers into dish.
Combine ground meat (Can be raw) with diced tomatoes, parsley, garlic, salt & peppers with the 1/2 cooked  onions.  Stir in the cooked rice/quinoa and cheese. Stuff the peppers with this mixture.
Cover baking dish with aluminum foil and bake for 45 minutes.  Serve with some rice/quinoa on the side and a salad.