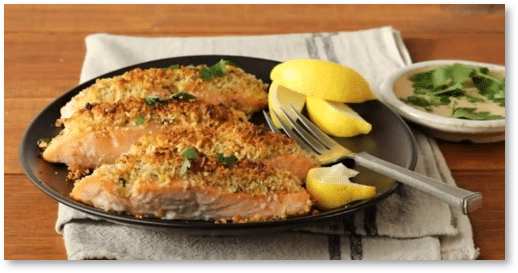 Walnut-Rosemary Crusted Salmon
January 23rd, 2020
Are you tired of always falling short on your health goals? Maybe it is because the method you're using to reach them just isn't designed with your personal well-being in mind. The key to making a healthy change is to set yourself up for success, and it's important to recognize what your body needs to make those changes happen.  Take a look at your nutrition and how you are prepping your food for the week.  The right choices in food will fuel your body, ultimately improving your health, mood, sleep, and possibly many more aspects of your everyday life! Start looking at what the food you're consuming has to offer.
Salmon and walnuts are both great sources of omega-3 fatty acids.  Pair this easy salmon recipe with a simple salad and a side of roasted potatoes or quinoa.
Ingredients
2 teaspoons Dijon mustard
1 clove garlic, minced
¼ teaspoon lemon zest
1 teaspoon lemon juice
1 teaspoon chopped fresh rosemary
½ teaspoon honey
½ teaspoon kosher salt
¼ teaspoon crushed red pepper
3 tablespoons panko breadcrumbs
2 tablesppons finely chopped walnuts
1 teaspoon extra-virgin olive oil
1 pound skinless salmon fillet
Olive oil cooking spray
Chopped fresh parsley and lemon wedges for garnish
Directions
Preheat oven to 425 degrees F. Line a large rimmed baking sheet with parchment paper.
Combine mustard, garlic, lemon zest, lemon juice, rosemary, honey, salt and crushed red pepper in a small bowl. Combine panko, walnuts and oil in another small bowl.
Place salmon on the prepared baking sheet. Spread the mustard mixture over the fish and sprinkle with the panko mixture, pressing to adhere.  Lightly coat with cooking spray.
Bake until the fish flakes easily with a fork, about 8 to 12 minutes, depending on thickness.
Sprinkle with parsley and serve with lemon wedges, if desired.
Nutrition Facts
Per Serving:
222 calories; 12 g total fat; 2 g saturated fat; 62 mg cholesterol; 256 mg sodium. 4 g carbohydrates; 1 g sugar; 24 g protein.