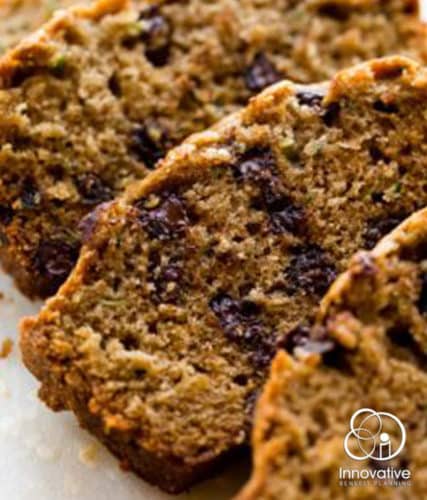 Zucchini Bread Recipe
Ingredients:
1 ½ cup shredded zucchini
½ cup honey
2 eggs
⅓ cup unsweetened almond milk
2 tsp vanilla extract
2 cups whole wheat flour
1 tsp baking soda
½ tsp salt
1 ½ tsp ground cinnamon
¼ tsp nutmeg
⅓ cup coconut oil, melted
Optional: ½ cup walnuts or ½ cup chocolate chips
Instructions:
Preheat oven to 325°. Grease an 8×4 inch loaf pan.
In a large bowl, combine zucchini, honey, eggs, almond milk, vanilla extract.
In a separate bowl, whisk together flour, baking soda, nutmeg, salt, and cinnamon. Add the dry ingredients to the wet ingredients and mix. Next, add in coconut oil and mix. Fold in walnuts or chocolate chips if desired.
Pour in to prepared loaf pan and bake for 50-60 minutes. Cool in pan for 10 minutes.
Nutrition Information:
Serving Size: 1 slice
Calories 202
Total Fat 8.9g
Saturated Fat 4.5g
Protein 3.9g
Carbohydrates 28.5g
Fiber 3.4g
Cholesterol 243mg