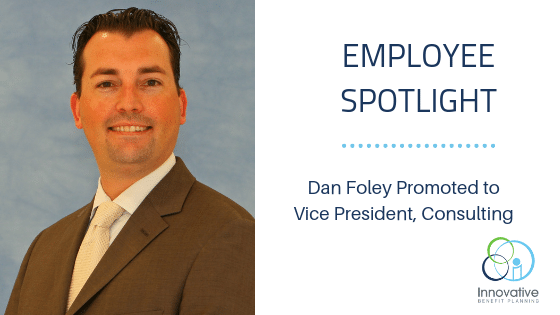 Innovative Benefit Planning is proud to announce that Dan Foley has recently been promoted to Vice President, Consulting. Like his prior role as Employee Benefits Consultant, Dan will continue to consult with clients on their benefit and retirement plans and identify business development opportunities. As part of the leadership team, Dan will be assisting with Innovative's strategic planning to support growth and continue to provide the best customer service, benefits plans and cost saving techniques to our clients.
"In the 9 years Dan has been with Innovative, he has proven to be an asset to our team, clients and partners," remarked Terriann Procida, Founder, and CEO.  "He is committed to our company and clients in every aspect and is an important part of our current and future success."
About Dan Foley
Dan has over 17 years of consulting experience with middle market employers in workforce management and employee benefits. He is a Certified Corporate Wellness Specialist® and has helped many employers implement alternative funding plan designs and wellness programs with a measurable ROI. Dan has a Bachelor's of Finance Degree from Seton Hall University, has served on an advisory board of a Fortune 100 company and on the All-Star Consulting Panel at the United Benefit Advisors Fall Conference in 2013 and 2014. Dan is licensed in Health, Life, and Disability insurance and is also federally licensed as an Investment Advisor Representative with the SEC.