After the Philadelphia Eagles secured their spot in Super Bowl LII, Innovative made a friendly wager with fellow United Benefit Advisors (UBA) partner firm, Employee Benefit Solutions (EBS) out of Massachusetts. The terms were simple- if the Eagles won, EBS would donate $500 to a Philly-area non-profit of Innovative's choice and send the team some goodies from New England. If the Patriots won, Innovative would donate $500 to a New England area non-profit of EBS's choice and send the team some Philly treats.
We are THRILLED to announce our victory as the Eagles beat the Patriots 41-33 in last night's nail-biting game taking home their first ever Super Bowl win.  We requested your nominations on LinkedIn for local non-profits to include in our random selection for the wager and you did not disappoint! The LinkedIn community suggested a number of wonderful local non-profits that are doing incredible things in the region. Here are the suggestions:
Eagles Charitable Foundation– The Eagles Charitable foundation provides free eye exams and glasses to area children in need and supports autism research and services through grants to institutions in the Greater Philadelphia area.
Back on my feet– Back on my feet provides practical training and employment resources to individuals experiencing homelessness. First, through a 30-day commitment to morning runs 3x's per week and then through a "Next Steps" program that provides educational support, job training programs, employment partnership referrals and housing resources.
Ronald McDonald House Charities–  Ronald McDonald House Charities offers a variety of resources for families with children fighting serious illnesses among a variety of other services. The organization provides housing near hospitals, so families can be near their children while they are in the hospital, mobile healthcare vehicles to service communities in need, "family rooms" allowing a comfortable place for families to regroup in a hospital setting, grants and more.
PSPCA– The PSPCA rescues animals from cruelty and neglect, rehabilitates them and places them with new, loving families. The PSPCA also has a humane law enforcement and litigation division, an in-house shelter hospital, provides low-cost veterinary services and behavior and enrichment programs.
Recovery Advocates of America, Inc– Recovery Advocates of America is a peer to peer center that provides education around the disease of addiction, tools to sustain recovery, and has a mission to reduce the stigma surrounding addiction within our community.
Catch, Inc–  CATCH, Inc provides continuous care for individuals with disabilities through behavioral health, residential and emergency services. CATCH also has an Intellectual Disability division that promotes independence for adults with Intellectual Disabilities through Community Integrated Employment and Home & Community Habilitation services.
Avalon Flooring Family Fund- Proceeds from the Avalon Flooring Family Fund go to Avalon Flooring employees who have suffered an event that left them in extreme financial hardship to help them get back on their feet.
Minding Your Mind- Minding Your Mind provides mental health education to adolescents, teens and young adults, their parents, teachers and school administrators. Their goal is to reduce the stigma and destructive behaviors often associated with mental health issues. Treatment is available, yet only 3 out of 10 individuals needing help actually seek help. Minding Your Mind Programs move away from crisis based response to prevention through education.
After entering all of the options into the random selection tool, the local non-profit receiving the $500 victory donation from EBS will be CATCH, Inc! Innovative was blown away by the mission statements of each of the nominees and has decided to donate $100 to each of the remaining organizations.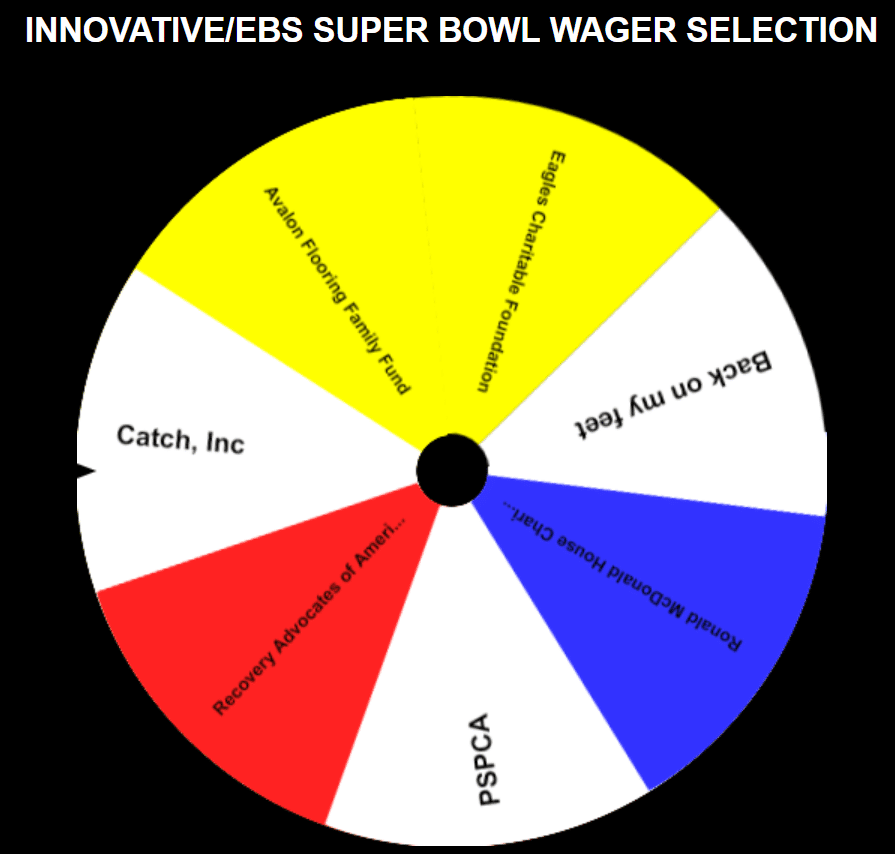 "We ourselves feel that what we are doing is just a drop in the ocean, but the ocean would be less because of that missing drop." -Mother Teresa
We encourage all of you to check out these local organizations and help in any way that you can.  Like Mother Teresa, we should all do our part and show the nation the power of "Brotherly Love!"
Thank you to Employee Benefit Solutions for participating in this wager. Win or lose, it's all for a great cause. Innovative's Employee Benefits Consultant, Dan Foley, and his son were able to watch the historical Eagles victory live in Minnesota and are all smiles headed home today!