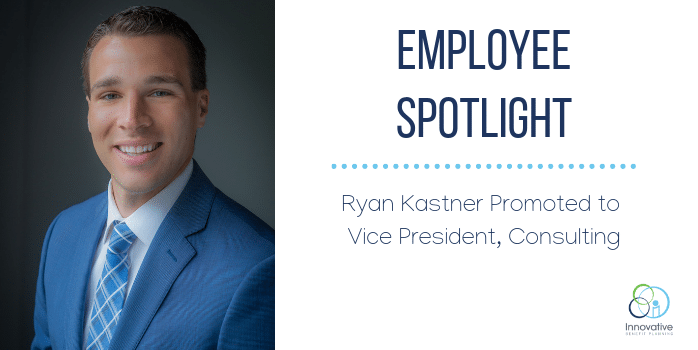 Innovative Benefit Planning is pleased to announce the promotion of Ryan Kastner to Vice President, Consulting. Ryan has been with Innovative for almost 6 years as Employee Benefits Consultant and like his prior role, Ryan will continue to consult with clients on their benefit and retirement plans and identify key business development opportunities. In addition, as Vice President, Consulting, his vast experience with Innovative will play an integral role on the leadership team, supporting Innovative's strategic planning to support growth and customer engagement.
"Ryan will continue to provide superior service to our clients and partners, as well as use his extensive knowledge and passion to support our continued growth," said Terriann Procida, Founder, and CEO.  "His commitment to our clients, team, and brand representatives and consistently demonstrates what Innovative stands for."
About Ryan Kastner
Ryan has over 7 years of experience in the insurance and payroll industry providing exceptional service to companies and executives across the country.  He is considered an expert in the healthcare industry and more specifically on the regulations associated with health care reform.  Ryan also focuses on advising Retirement Plan sponsors to keep them compliant with their fiduciary obligations and provide an optimal plan for employees. He has spoken at numerous events on the subjects of Employee Benefits, Health Care Reform, and Population Health, and was a recipient of the 40 Under 40 Award by Southern New Jersey Business People and the 20 Under 40 Award by South Jersey Biz Magazine in 2016.
About Innovative Benefit Planning
Innovative Benefit Planning is an employee benefit planning and financial services company that combines innovation with integrity for companies nationally and internationally. Our people and experience, coupled with sound financial advisory services, have helped thousands of organizations and their employees achieve their employee benefit planning goals and more. Our focus is on creating comprehensive, custom plans that deliver better, cost-saving techniques and manage it all for you with our highly skilled support team. "Putting People First" www.ibpllc.com 856-242-3330