COVID-19 Employer Impact Analysis Report
We understand that there has been a lot of information shared by multiple sources affecting various parts of your business regarding the novel coronavirus outbreak. In our COVID-19 Employer Impact Analysis report, we will walk you through important considerations as you assess your business operations and challenges. Moreover, employers are asking what negative and positive impacts COVID-19 will have on their health plans in 2020 and beyond. Using an actuarial tool, Innovative will forecast the financial impact to your health plans. 
COVID-19: Employer Impact Analysis Report:
COVID-19 Health Plans Cost Impact Tool Report
Employers are concerned about the financial impact on their medical claims and premiums due to the added claims from COVID 19 testing and treatment. Using an actuarial tool, Innovative can forecast the financial impact to an employer sponsored health care plan due to COVID-19 claims through use of basic claims data, estimated costs, and various infection rate inputs.
Reduction in Workforce Considerations
The COVID 19 "Stay Home" orders have impacted many businesses. Employers are seeking options for navigating workforce reductions. This analysis will provide important plan and policy considerations and  amendments employers need to review when considering furloughs, layoffs, and reductions in pay.
Health Plan Coverage & Retirement Changes and Considerations
In an effort to expand access to care, insurance carriers and plan sponsors are waiving co-pays for diagnostic testing and treatment of COVID-19 related services. Through this analysis, learn what to consider when offering to waive copays for Telehealth and Telemedicine services including any required plan language amendments.
Impact of Health Savings Accounts & Flexible Spending Account Updates
Details on new legislation that was passed allowing for expenses to be covered under HSA and FSA plans in response to COVID-19.
How to Treat Life and Disability Considerations
With temporary layoffs and salary reductions, employers need an understanding of what to report to Life and Disability carriers.
Employer Communication Templates
Gain access to a host of template policies and communications to make the necessary operational and plan changes to stay current with the rapidly changing employment environment due to the Covid 19 pandemic. Including a summary of material medication template, sample furlough letter, FFCRA leave request form and many more.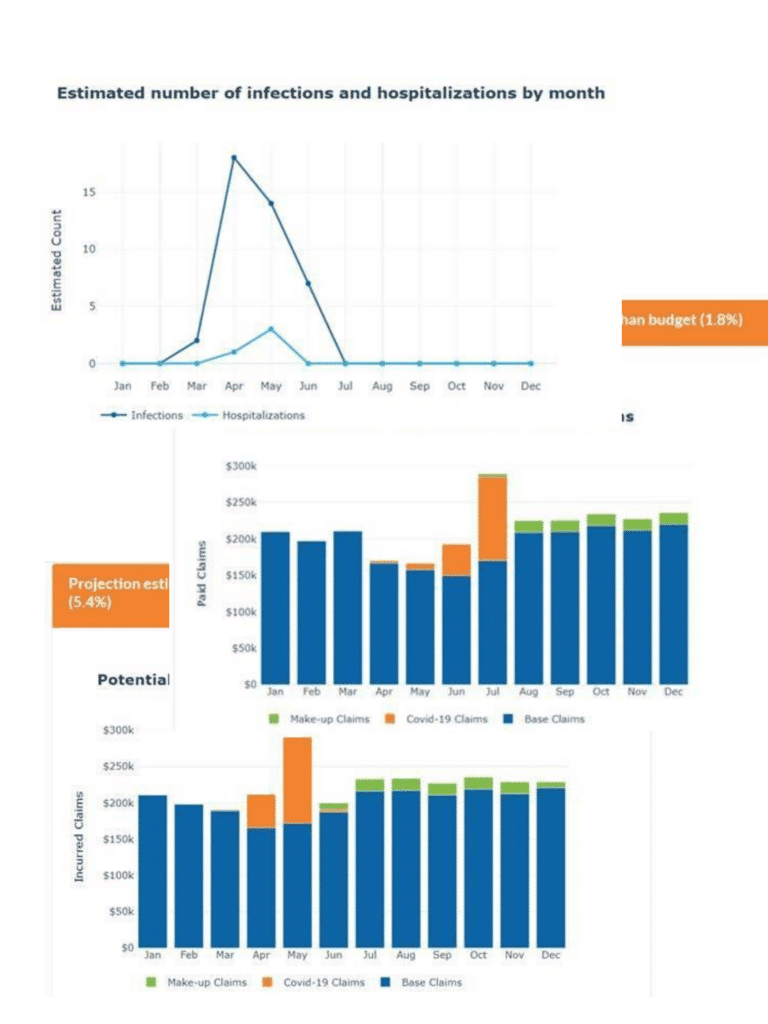 "I found the Innovative analysis extremely helpful to determine the potential cost impact of COVID-19 while also ensuring I remain compliant in my workforce and benefits cost reduction strategies. "
This is Great! Very Insightful! Thank you!
Get Started with Your Report Today
This report is geared towards employers with 50+ members on the plan. While it is too early to provide a firm total cost impact, this report is based on data from our initial research, combined with an actuarial tool to provide assumptions and estimated cost impacts. The duration and severity of the pandemic is dependent upon a significant number of factors well outside our control, most importantly the duration, infection, and the corresponding hospitalization rate. We believe this model can be used to generate plausible scenarios. However, changes to any model assumption may result in different claim payment patterns.