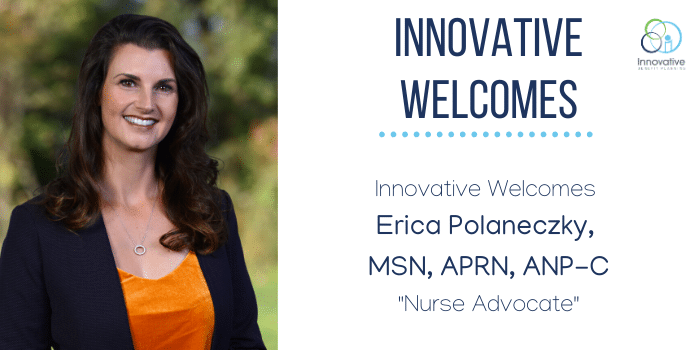 We are excited to announce the latest member of the Innovative Benefits team! Please join us in welcoming Erica Polaneczky, MSN, APRN, ANP-C, as our Nurse Advocate.  As part of our Workplace Wellness team, Erica will help Innovative build, plan, coordinate, and deliver health promotion activities tailored specifically for each client's company culture and member population.  She will work with our internal team and our clients to improve health and wellness opportunities and outcomes while increasing the accessibility of care and reducing costs. Our new Nurse Advocate will also develop and present seminars on health and wellness to our clients, and coach and counsel individual client-members to help them achieve optimal health. Erica's healthcare expertise can help clients navigate the healthcare system, including interpreting physician instructions and medication compliance.
Prior to accepting this position, Erica spent more than 15 years providing pre-admission testing at Hahnemann University Hospital, as well as delivering medical education and ensuring patient safety prior to surgery.  She has also worked as a nurse practitioner and staff nurse with several hospitals and medical practices and is on the clinical adjunct faculty at Drexel University College of Medicine. Erica received her B.S. in Nursing from DeSales University and her Master of Science in Nursing from Rutgers University.
"Erica's experience in coaching individuals on health and wellness allows her to make a significant contribution to our clients," said CEO Terriann Procida. "Her passion for preventative medicine and health education will be a valuable asset to all their members."
We are pleased to welcome Erica to our growing team.