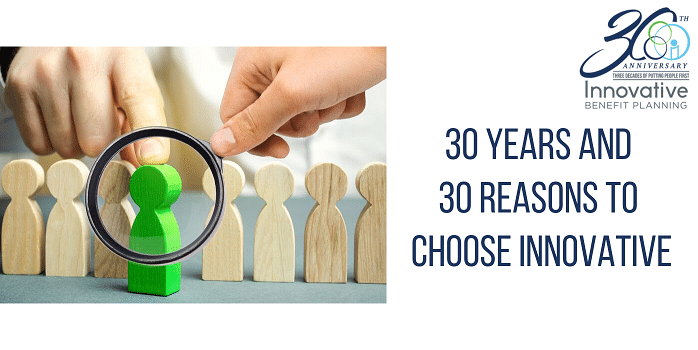 When it comes to benefits planning, there are a ton of choices out there. And, we believe we're the most innovative company you'll find. After 30 years, here are 30 good reasons our clients choose to work with us:
1. We put people first
2. We are an advocate for our clients
3. We do what's right for every individual
4. We understand what's best for one person may not be the best for another
5. We earn our clients trust
6. We hold ourselves accountable
7. Being responsive is very important to us
8. We are respectful
9. We make the complex easy to understand
10. We affirm the best way isn't the easy way
11. We focus on client's goals and deliver value
12. We try to understand the culture and the people that make up an organization
13. We always have our client's best interests at heart
14. We take pride in our expertise
15. We employ and partner with experts across the Benefits Planning and Financial Services Industries so we can deliver the best results to our clients
16. We focus on creating a better experience for your employees and their families
17. Our private, local commitment provides high touch service
18. Our affiliation with United Benefits advisor allows us to leverage a national reach
19. We are committed to our community
20. We understand the challenges in creating a program your employees value. We put that first!
21. We're an extension of your HR team with In-house HR support
22. Each client has a dedicated service team to address all inquires
23. Proactive and strategic initiatives and services
24. Employee education and utilization tools
25. Dedicated In-house Benefit Guardian service for your employees
26. Advanced analytics and population health strategies
27. National Healthcare Benchmarking Survey
28. Healthcare Reform experts
29. On-going compliance support
30. Innovative continues to measure and bring new and exciting strategies through our relationships