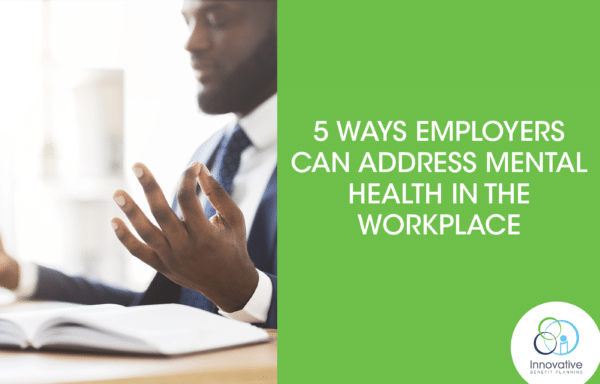 Mental health is top of mind everywhere these days as about 20% of adult Americans report symptoms of mental illness according to the Centers for Disease Control.  Workplace mental health concerns such as anxiety, stress, and depression had already been growing, and then the COVID-19 pandemic and remote work situations just intensified these matters. It's no secret that work-related factors, especially during the pandemic, are impacting employee's mental health. In fact, The World Health Organization classified employee burnout as a medical condition. The two most important steps employers can take to help address this is 1) talk about mental health and 2) offer resources.
Benefits of Addressing Mental Health in the Workplace
Mental health conditions cost employers more than $100 billion and 217 lost workdays annually, according to the National Association on Mental Illness (NAMI). There are many benefits to taking the lead in the workplace:
Increased productivity-A 2021 survey by The Hartford found that 31% of employers felt workplace mental health was having a severe or significant impact on their companies, up from 20% in early 2020.
Decreased absenteeism – Employees experiencing mental health illness are more likely to be absent from work, which impacts productivity.
Better physical health for employees– Employees with mental health challenges also experience higher rates of physical health conditions (such as heart disease), adding more cost for medical care and time away from work. According to the CDC, it costs two to three times more to treat people with both mental health issues and other physical conditions that it does to treat those without co-occurring illness.
Competitive advantage in recruiting and retention- Potential new hires and existing employees alike are more likely to choose employers whose policies and benefits support wellness considerations.
So, What Steps Can Employers Take?
1.Offer additional training for management.
Supervisors and middle managers have the most frequent contact with employees, so they are in the best position to help. Gone are the days of not talking about mental health. We need to break the stigma and one effective method to tackle this is creating a culture of acceptance and support for people facing these challenges.
Train managers to:
Know what to look for and how to identify employees who need help

Conduct difficult and sensitive conversations

Be supportive

Help create an environment where people feel comfortable to talk about mental health issues without fear of stigma or reprisals

Act as ambassadors of the organization's mental health program
2. Make sure people take time off.
Employees need time to rest and recharge. However, during the COVID-19 lockdowns and months of working remote, even more people than usual are not taking enough time away from their jobs. Research led by the U.S. Travel Association in 2019 found that 55% of American workers did not take all their vacation time that year — a number that other surveys show increased to 90% during the COVID-19 shutdowns of 2020.
Employers should consider:
Require everyone to take time away from the office. One approach to force employees to take a break is through "use it or lose it" policies that require employees to take their vacation days during the calendar year or company wide shutdowns.

Restrict the number of meetings and calls. Zoom burnout is a real issue for many remote workers. Consider "video-free days" each week, or reserve days when the organization will not schedule any meetings. These no-cost moves give employees a needed break from technology sessions.

Encourage participants in conference calls to get up from their desks and walk around, possibly taking their cellphones outdoors for fresh air.

Offer or expand flexible work hours.
3. Promote workplace wellness.
There are many ways employers can encourage better wellness practices in the workplace, such as:
Physical, mental, and nutritional challenges

Educational seminars

Health fairs

Financial wellness events

Self-care tips

Mindfulness practices

Well-being tool kits

Encouraging people to have open conservations and share how they are feeling
4. Creating a comprehensive mental health benefit within your benefits package.
Plan sponsors are finding that traditional mental health case management doesn't address all the employee's needs. Most programs act as a gatekeeper to care. Members are looking for help in navigating mental health treatment options available to them. Plan sponsors can engage a mental health case management program that integrates with the plans EAP (employee assistance programs). The coordination between these benefits will enhance the member's success rates. The EAP counselor can offer options available to the members that are covered under the plan. The EAP counselor supports the member's progress through treatment.
When building your mental health benefit plan consider the following:
Evaluate an EAP (employee assistance programs). Free programs offered through your medical or ancillary carriers are very limited. You should also consider an enhanced EAP service that provides additional services.

Review your plans Mental health Case management process.

Assess the provider mental health provider network to determine if there are adequate providers in multiple disciplines.
5.Offer and promote supportive resources.
Providing resources to encourage mental health and wellness goes a long way towards ensuring employees get the support they need. Those options include:
Counseling apps or service vendors (such as Talkspace)

Meditation apps and services.

Mental health service vendors who offer a series of sessions that focus on stress management, such as yoga, meditation, and stress education.

Publicizing free resources available in your community, state, and nationwide.

Physical fitness programs. You might offer access to online videos, subscription exercise classes, fitness education, or gym memberships.

Employee recognition awards and events.

Relaxation spaces.

Create an uplifting work environment with comfortable workspaces, natural lighting, plants, etc.

Make time to have fun at the office with regular events and promotions.
Remember to vary your communication platforms. Not everyone learns and absorbs information in the same way. Share your message across numerous media, such as printed flyers, newsletters, videos, and audio presentations.
Even as the pandemic eases, employers and employees will continue facing mental health challenges in the workplace. These challenges existed before the pandemic, COVID-19 just allowed us to shine a bigger light on it. As employers, you have an opportunity to support and promote mental health in the workplace. Taking some basic steps to address wellness issues can provide benefits that significantly exceed the costs to implement these strategies.
If you have any questions about implementing a workplace wellness program at your organization or any of the mental health initiatives mentioned above, please contact Innovative Workplace Wellness.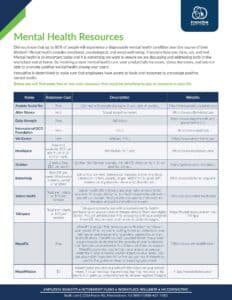 Free or Low Cost Mental Health Resources
Innovative is determined to ensure you have access to tools and resources to encourage positive mental health. Download some free or low-cost resources here that could be beneficial to you or your employees.