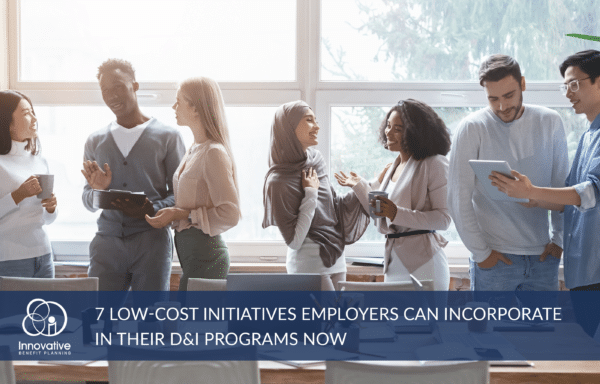 Countless studies show that employers who focus on diversity and inclusion policies and practices help increase employee engagement and boost overall happiness in the workplace, thus improving retention. Research shows that companies with diverse, inclusive teams generate 19% more revenue and perform 35% better than their industry average.
While integrating diversity, equity, and inclusion (DEI) programs in the workplace might seem expensive, there are actually several ways to efficiently make the workplace more inclusive.
Here are 7 techniques companies can consider integrating DEI initiatives without added cost:
Tweaking your paid-time-off policies offers multiple opportunities to align DEI initiatives with existing benefits. Consider:
Does your parental leave policy include adoptions and new foster children?
Is family leave specific only to mothers, or can it include new fathers and/or same-sex new mothers? Is parental leave longer for birth mothers than for others?
Is your sick leave policy broad enough to cover a variety of contingencies, such as transition surgery?
Who does your bereavement policy cover: just blood relatives or all members of an employee's chosen family? Many need time to grieve for extended family members — even their pets. Are miscarriages included?
How flexible is your holiday policy? For example, can someone use Christmas leave to celebrate a day for Hanukah? Some employees may want to be off for the Juneteenth holiday; others may favor Pride Day. As employee populations become more diverse, some companies are adding more floating holidays to address different employee preferences.
Create a DEI policy. Companies should adopt a corporate DEI policy and share it with employees to reinforce their commitment to diversity and inclusion. Your policy communicates that your organization supports and enables an inclusive and equitable work environment for everyone.
Update your employee value proposition. Your EVP tells employees the unique set of benefits they receive in return for the skills and experience they bring to your organization. A strong EVP that conveys your culture and vision helps address workplace diversity and inclusion. Demonstrating that DEI is a core company value helps you retain top performers and attract strong external candidates.
Establish Employee Resource Groups. ERGs are voluntary, employee-led groups that aim to foster a diverse, inclusive workplace. These groups typically form around people with a common social identity (such as gender, ethnicity, or parenthood). Employers should encourage groups that are open to all employees, bringing different experiences and perspectives to the group. ERGs may promote DEI-related events (such as a Pride Day celebration), arrange for lunch-and-learn speakers, or organize team-building events. Larger employers often have multiple ERGs across several populations, while a smaller organization may support one small group that addresses employee priorities.
Develop employee DEI training resources. Common topics address such topics as unconscious bias, anti-harassment initiatives, or simply explaining what DEI means. These educational events might be presented by staff members or by third-party experts.
Use inclusive language in your communications. Make sure all employee communications use gender-neutral pronouns and language. Review all internal documents, including the employee handbook, job descriptions, open enrollment guides and materials, HRIS system terms, and even the wording on your website.
Review your office space. Try to accommodate unique needs within your office space. Nursing rooms provide additional privacy for new mothers, while gender neutral bathrooms ease stress for transgender employees. Prayer rooms enable employees of all religions to practice their faiths in a safe setting. Even traditional wellness benefits such as gym memberships encourage inclusion.
There are many other initiatives employers can do to implement DEI efforts, however, some often carry higher costs than those listed above. If you're looking to expand even further, some high costs things to consider include:
Specific benefits for women

. Does your organization offer comprehensive OB/GYN benefits for female employees? Also consider maternity-related programs, such as classes for expectant mothers and breast pumps.
 
Additional benefits for LGBT community. Programs assisting employees who identify as LGBTQ include fertility, surrogacy, and adoption services. Also consider whether your policies include exclusions that might affect transgender employees. Helpful benefits for these workers include transition surgery and cosmetic procedures such as facial feminization.
 
Benefits for the disabled. Often health plans offer little or no coverage or financial assistance for people with certain disabilities. Hearing aids and prosthetics are expensive, so employers who help cover at least some of those costs can help those employees feel more included and valued.
 
Financial wellness programs. Financial literacy education in the workplace benefits all employees. These programs provide services such as personal financial coaching, and retirement planning.
 
Expanded perks. Cafeterias and snack machines offering healthy eating options can improve equity by helping ensure all employees have access to nutritious meals and snacks.
In the long run, robust DEI initiatives create a more active workforce, which helps employees and organizations thrive. Implementing some of these simple quick hits can bring those same benefits to your workplace.
If you would like assistance in incorporating DEI benefits into your workplace, contact us to speak to one of our specialists.
Ebook:
The Future of the Workplace
.
The rate of change in the modern workplace continues to accelerate, challenging employers and employees alike to adjust to new realities and expectations at a rapid place. With the war for talent intensifying, employers need to adapt their HR strategies to match the new environment so they can remain competitive in recruiting and retention. Download now to learn how!