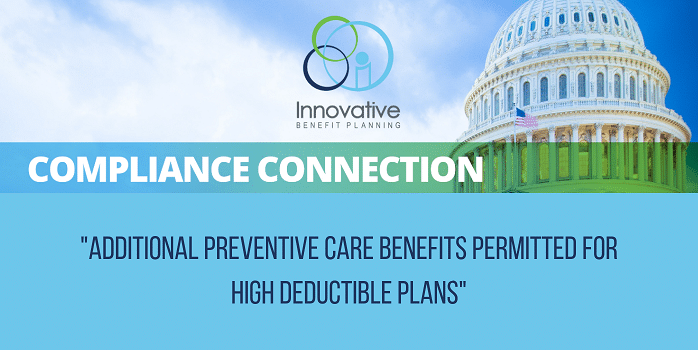 In Executive Order 13877, issued June 2019, the Treasury Department and the IRS were directed to consider ways to expand the use and flexibility of HSA's and HDHP's. In response to the Executive Order, the Treasury Department issued guidance on July 17, 2019, that lists newly identified preventive care items and services that may now be covered by a high deductible health plan.
Read the complete executive order details here, including the list of identified items: HDPS Additional Preventive Care
HDHP sponsors should review the new guidance promptly. For some HDHPs, plan sponsors may seek to expand the list of preventive care items and services covered under the HDHP. For other HDHPs, which already treated certain chronic care expenses as preventive, plan sponsors will need to consider whether changes to that list of preventive items and services are now necessary or appropriate.
If you have any questions regarding these additional benefits, please contact your Innovative Benefit planning account manager.