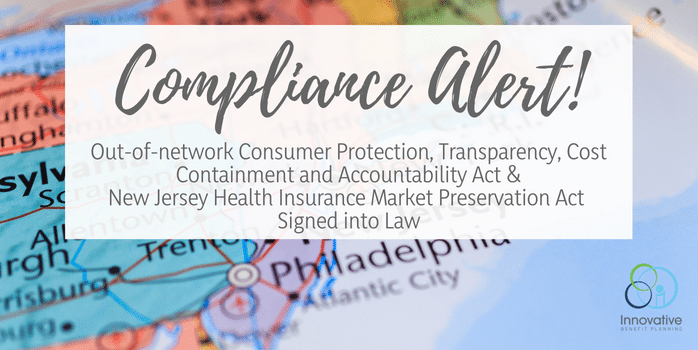 This past week, New Jersey Governor, Phil Murphy, signed two bills into law that will impact New Jersey residents. Employers who offer benefits in New Jersey and surrounding states should be mindful of these changes as they will affect employees who reside and/or receive medical treatment in New Jersey.
Out-of-network Consumer Protection, Transparency, Cost Containment and Accountability Act
Last Thursday, Governor Phil Murphy signed Assembly Bill No. 2039, which protects healthcare consumers from unexpected bills from out-of-network health services. This bill requires healthcare facilities to increase disclosure and transparency for non-emergency patients. Providers will be required to disclose their out-of-network status to patients before rendering services and provide a disclaimer that the patient will be responsible for any out-of-network fees along with an estimate of those fees (upon request). Providers will also be required to publicly post their standard charges. Insurance carriers will be responsible for maintaining a telephone hotline for network questions and provide detailed written notices regarding changes to their network and out-of-network services.
The bill also outlines billing restrictions for out-of-network services administered on an "emergency or urgent basis." These changes restrict the amount a provider may charge in excess of a deductible, copayment, or coinsurance amount applicable to in-network services pursuant to the covered person's health benefits plan.
Finally, Bill No. 2039 implements an arbitration process for out-of-network billing disputes between insurance carriers and providers. When disputes arise between providers and insurance carriers regarding reimbursement for services, each party will submit an offer to an arbitrator who will choose between one of the two. The legislation takes effect 90 days following enactment.
New Jersey Individual Health Insurance Mandate
On Wednesday, May 30th, New Jersey Governor Phil Murphy signed bill 
NJ A3380 (18R)
 into law which requires all New Jersey residents to maintain health insurance coverage. Under this law, New Jersey residents who do not have health insurance will be subject to a penalty. This change comes in response to the repeal of the federal mandate established under the Affordable Care Act that all citizens sustain health insurance. In order to keep healthy citizens insured and avoid a "death spiral" of the individual market, New Jersey has become the second state to enact an individual health insurance mandate. The individual health insurance mandate will take effect January 1st, 2019, leaving only seven months to notify New Jersey residents of this change.
Uninsured New Jersey residents will be subject to an annual penalty that is either 2.5% of the individual's household income, or a per-person charge, whichever is higher. Penalties assessed based on household income will be equivalent to the annual cost of a premium bronze plan. Penalties assessed per-person will have a maximum household penalty of $2,085. State Treasurer, Elizabeth Muoio, will make the determination for a "hardship exception" for those who cannot afford the coverage.
Enacting the individual health insurance mandate is just one step the Murphy administration is taking to stabilize the individual market in New Jersey to weather obstacles expected to arise nationally in 2019 as the Trump administration pushes to dismantle the Affordable Care Act. For more information about the New Jersey individual health insurance mandate, click 
here
.
If you have any questions about how these changes impact your organization, please don't hesitate to contact our office at (888) 427-7383.