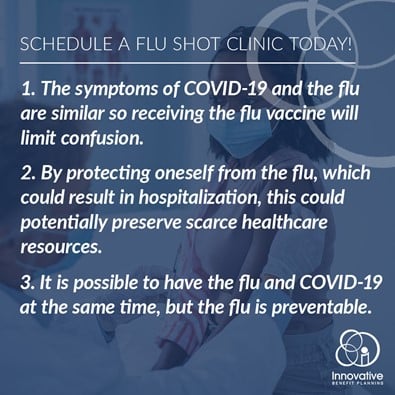 Flu season here and the best way to protect your employees from the flu is to encourage them to get a flu shot! There are always benefits from receiving the flu vaccination, however, due to the ongoing COVID-19 pandemic, this year is more important than ever for your employees to receive a flu shot and reduce illnesses:
The symptoms of COVID-19 and the flu are similar so receiving the flu vaccine will limit confusion.
By protecting oneself from the flu, which could result in hospitalization, this could potentially preserve scarce healthcare resources.
It is possible to have the flu and COVID-19 at the same time, but the flu is preventable.
Let Innovative Workplace Wellness help arrange a flu shot and COVID-19 vaccine clinic for your employees! Visit our COVID-19 Vaccine Resource Kit to get started today.