COVID-19 Employer Resource Center
Innovative has developed this comprehensive employer resource center with important resources and tips to consider as an organization.
Please check back for updates, additional resources and latest news as this situation evolves.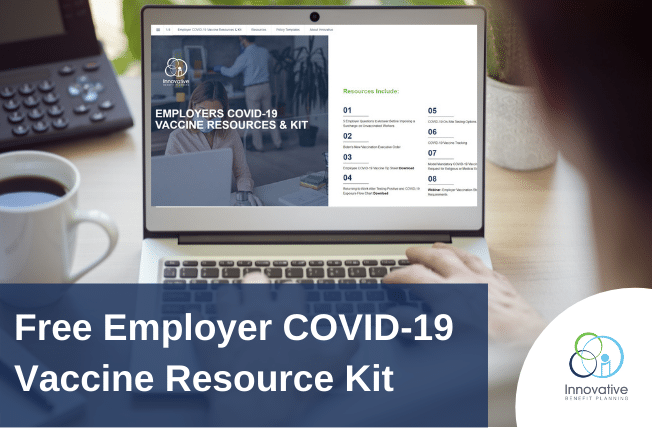 Employer Vaccine Resource Kit
Sometimes its hard to keep up with all the latest recommendations and regulations. In an effort to ease the burden, we have compiled eight important resources that you can access when planning your COVID-19 vaccine practices.
WEBINAR: Vaccine Mandate ETS: What does this mean for employers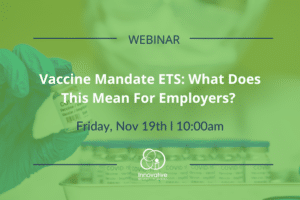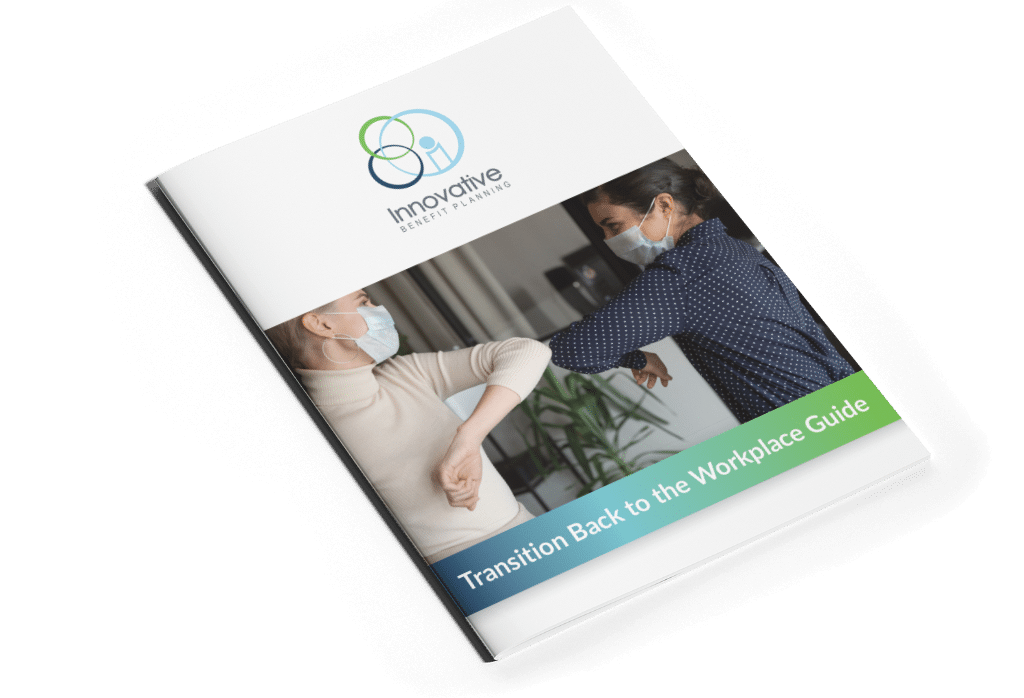 Transitioning Back to the Workplace Guide
This complimentary 8-page guide provides checklists and best
practices on your "Return to Work" questions.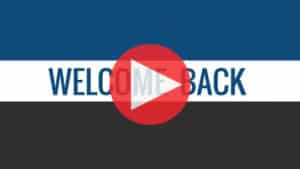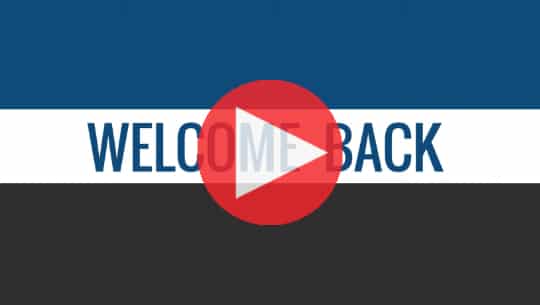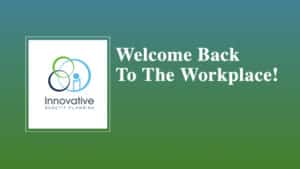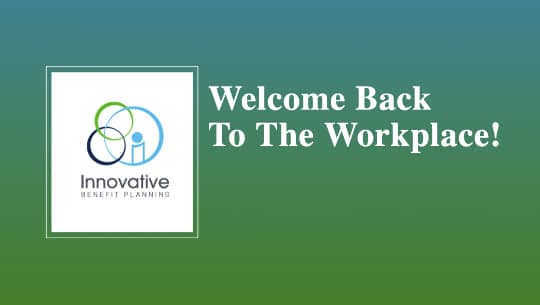 Return To Work Training Kit
Bring your employees back to work safely with our "Return to Work Training Kit." Use these two training tools in conjunction with each other to educate your employees on what you are doing response to COVID-19, understand what they can do, answer any frequently asked questions, and provide resources and who they should communicate with.
COVID-19 Vaccine Resources
COVID-19 Pandemic Policy Template
Even as employees start to return to the workplace, business as usual will not be the same. During the last year, many employers had to make several workplace and behavior modifications due to COVID-19 and it's important that your handbook and policies reflect these changes. We understand as employers you have had a lot of ground to cover, so in an effort to ease that burden, Innovative is proud to offer you our COVID-19 pandemic policy as a template to get started. 
Mandatory Coverage of COVID-19 Vaccines under Group Health Plans
 COVID-19 Vaccination Policy & Employee Letter 
Supreme court blocks OSHA vaccine but allows mandate for healthcare workers
DOL Guidance on at-home tests
OSHA Issues Emergency Temporary Standard regarding COVID-19 Vaccine Mandate
Biden Announces New Vaccination Executive Order
DOL Issues ARPA COBRA Subsidy Forms
American Rescue Plan Act of 2021
Congress Passes New $1.4 Trillion Stimulus & COVID-19 Relief Bill and Awaits President's Signature
The Coronavirus Aid, Relief, and Economic Security Act (CARES Act)
What You Need to Know About the Families First Coronavirus Response Act
Impact of COVID-19 to Employers: FAQs
How to Create a Leave Donation Program
On March 27, 2020, Congress passed, and the President signed, an unprecedented 2 trillion-dollar stimulus and relief package into law, named the Coronavirus Aid, Relief, and Economic Security Act or the CARES Act. This act provides direct stimulus relief to corporations and individuals. While there are many facets to this act, the below outlines the impact to employee benefits, retirement plans and the loans and tax credit provisions. 
CARES Act: Impact on Employee Benefits
Paycheck Protection Program (PPP) Loan Forgiveness Application
CARES Act: Impact on Retirement Plans
President Trumps Signs Paycheck Protection Flexibility Act
CARES Act: Loans & Tax Credits
Employer Workplace Resources
COVID-19 Testing Locations
In the attached document, you can find a list of testing locations, including sample type, length of process, cost with out insurance and their website for additional details or updates. 
COVID-19: 7 Important Employer Considerations
As employers prepare for COVID-19 accommodations, Innovative has developed a checklist that offers specific considerations for employers in planning for emergencies like COVD-19. Examples include policies to review, communication strategies to consider and benefits that may be impacted. The Innovative team is here to support any organizational policy needs to ensure you and your team are prepared and protected.
Considerations Regarding Employment & Plan Coverage Changes (NEW)
Due to the recent national health crisis in our country, many employers are considering the best way to handle a temporary economic turndown to best position themselves for recovery once the pandemic ceases and businesses can begin to return to some sense of normalcy. In addition, many employers are also navigating the benefit coverage changes being made by their insurance carrier(s) or by state and/or federal mandates which may include cost considerations, plan document revisions and employee notifications. Below are some explanations regarding various workplace employment options and health plan considerations.
COVID-19: Tips & Preventions
Employees may have questions about what they can do to help manage the situation, and as an employer, you want to be proactive in communicating how to prevent the spread of the virus in the workplace. Innovative has created an easy to download infographic that can be shared with employees to assist with stemming the spread of COVID-19 through helpful tips and what signs and symptoms they need to be aware of.
Due to the outbreak of COVID-19 in the United States, the CEO's of major US health insurance companies met at the White House on March 10, 2020 and agreed to waive costs for certain services such as the COVID-19 test, telemedicine services and prescription refill limitations. Whether you are an employer sponsoring a fully-insured or self-funded plan, it is important to understand the insurance companies response to how certain benefits are being enhanced to address this global pandemic. Contact us here to receive a custom communication piece for your workplace.
See fully-insured sample communication here
Telemedicine Delays-Employee Communication
Telemedicine services are experiencing higher than normal delays under the weight of an unprecedented surge in patients as employers, insurance carriers and healthcare professionals encourage their members to use these services.  The crisis is stressing major telemedicine providers' technical infrastructure and the supply of physicians prepared to deliver care virtually.
While telemedicine providers are working on ways to increase their capacity, they are recommending members schedule their virtual visits rather than remain in the virtual waiting room for an unknown period of time. Here is a communication PDF you can use to communicate this recommendation with your employees.
Relaxed Life, Disability & LTC Insurance Underwriting
As a result of the COVID-19 National Emergency, insurance companies have adapted to help individuals easily secure protection and obtain insurance without a medical exam that requires a nurse to visit your home or office. This is a TEMPORARY change that will likely end when social distancing can stop.
Learn how this can help you and the steps to a simplified application process. 
Open Enrollment and Outcomes Based Health Screenings Options During COVID-19
Due to the COVID-19 outbreak, employers who were planning on offering on-site health screenings tied to payroll deductions are unfortunately being forced to consider other options.  Thankfully, the screening vendors have been flexible with delaying screening dates. As an employer, if you were offering premium discounts based on screening results, you must decide what to do with your payroll deductions and incentives now that screenings will not be occurring before the start of your new plan year.
Innovative Resources Available to Your Employees
In the face of the COVID-19 outbreak, your employees may be without access to their usual on-site resources or experiencing a shortage of resources through their physicians and telemedicine providers. However, they're not alone!
Innovative is proud to provide our clients and your employees with additional resources during this time of need.
See Employer Communication Here
This complimentary 8-page guide provides checklists and best
practices on your "Return to Work" questions.
To assist with the transition back to the workplace, Innovative Benefit Planning hosted a panel of experts to help employers navigate the when, who and how to return to the workplace safely.
Get your return to work checklist on important procedures such as posting and policies, health and safety and best practices for returning to the office. 
Return to Work Training Video
Download our animated safety training video that outlines important behavior modifications. 
Retirement & Market Guidance
Tips for Addressing Employee Concerns and Prudent Plan Management
The coronavirus (COVID-19) pandemic and recent market volatility have undoubtedly presented you with new challenges as you care for your employees, families and community. Below are 7 tips you can consider for addressing employee concerns and managing your plan.
Relief to Federal Student Loan Borrowers

On March 13, 2020, the U.S. Department of Education announced that it would waive interest charges, allow for suspended payments and provide assistance to borrowers of defaulted loans for a 60-day period.
Within the CARES Act, there are provisions that affect retirement plans. The below FAQ's is broken down to cover the four main aspects: Coronavirus Related Distributions; Expanded Loan Rules; Required Minimum Distributions; Pension Plans.
4 Tips For a Volatile Market
The COVID-19  has impacted nearly every part of our daily lives and the investment market is no exception. When account balances fluctuate, it is tempting to make quick investment decisions. The below PDF offers your employees 4 investing tips to guide their investments through a volatile market. 
Within the CARES Act, there are provisions that affect retirement plans. The below FAQ's is broken down to cover the four main aspects: Coronavirus Related Distributions; Expanded Loan Rules; Required Minimum Distributions; Pension Plans.
Employee Well-being Resources
Staying Healthy While Home Videos
Tip #1: Creating a Designated Workspace 
Tip #2: Staying Physically Active at Home
Tip #3: Coping with Loneliness
Tip #4: How to Improve Your Sleep
Tip #5: Eating Healthy While Home
Innovative's Wellness Workouts
2-Minute Stretching at Your Desk
15-Minute Upper Body 
Lower Body Resistance Bands
Easy Chair Yoga 
COVID-19 Employer Tip Series
The CDC, WHO and OSHA have all created informational material on the virus and its symptoms, prevention and treatment that can be helpful for employees.
COVID-19 Updates
Families First Coronavirus Response Act Resources
Small & Mid-Sized Business Guidance
Local Resources
Workplace Health
The information provided herein does not, and is not intended to, constitute legal advice; instead, all information, content, and materials herein have been provided for general informational purposes only. Recipients of this information should contact their attorney to obtain advice with respect to any particular legal matter.  Similarly, no recipient should act or refrain from acting on the basis of information in this email without first seeking legal advice from counsel in the relevant jurisdiction.  Only your individual attorney can provide assurances that the information contained herein – and your interpretation of it – is applicable or appropriate to your particular situation.