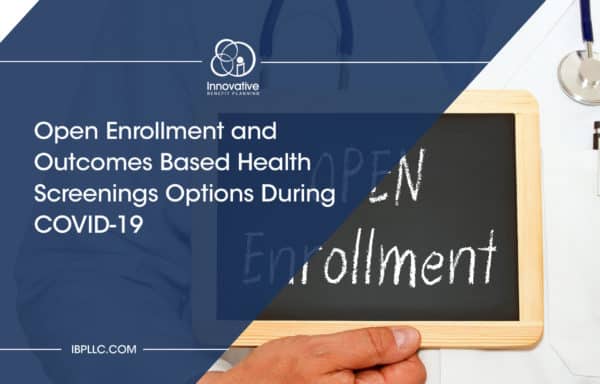 Open Enrollment and Outcomes Based Health Screenings Options During COVID-19
Due to the COVID-19 outbreak, employers who were planning on offering on-site health screenings tied to payroll deductions are unfortunately being forced to consider other options.  Thankfully, the screening vendors have been flexible with delaying screening dates. As an employer, if you were offering premium discounts based on screening results, you must decide what to do with your payroll deductions and incentives now that screenings will not be occurring before the start of your new plan year.
What options do employers with outcomes based wellness plans have?
Many employers have expressed interest in keeping the current payroll deduction rates in place for a few more months. Unfortunately, under HIPAA's rules regarding health contingent wellness programs, this option is not allowed.  Members must be given the opportunity to screen and earn incentives at least once every 12 months. To comply with HIPAA employers cannot maintain the payroll deduction strategy with wellness discounts if you are not allowing employees to rescreen after 12 months. Here are some options.
Option 1: Give all employees the current best rates/incentives
Offer all employees the current maximum wellness discount for the time being. Unfortunately, this option likely means a budget impact that was not expected.
Option 2: Develop a new rate structure for the plan year
Another option is to develop a new rate structure for all employees, eliminating any wellness contingent discount. Some employers have considered increasing employee payroll deduction contribution rates for all employees for the beginning of the plan year, with the intention of offering a wellness contingent discount once screenings are able to take place again.
Other Ways to Help Minimize Budget Impact
If you are faced with delaying your wellness screenings and implementing a new payroll strategy, as mentioned, this could mean an impact to the budget for the upcoming plan year.
Employers that test for cotinine should consider implementing a tobacco surcharge via affidavit for the beginning of the plan year. You can elect to skip the Cotinine test when you do hold screenings to reduce the cost of the lab panel. It is always an option to go back to the full testing panel next year.
Whatever the decision, communication is key in this situation. Keep employees up-to-date about what is going on with the screenings so that there are no surprises when it is eventually time to screen. It is also important to keep employees engaged with the wellness program whenever possible. Show them that no matter what is going on, the company's commitment to their health and well-being is still a priority. Consider other wellness initiatives and challenges that can be done remotely until it is possible to hold the health screenings. Any questions or concerns, please contact your Innovative account team.