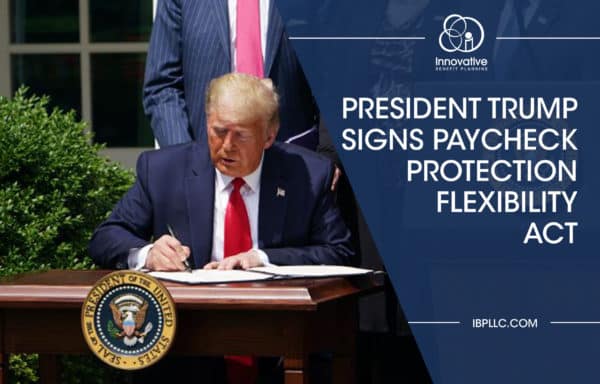 President Trump Signs Paycheck Protection Flexibility Act
The President authorized the Paycheck Protection Flexibility Act on June 5th after it was passed by the House on May 28th with only one dissenting vote and passed unanimously by the Senate on June 3rd.  This act changes provisions surrounding loan forgiveness through the Paycheck Protection Program (PPP).
Highlights of this act include changing the time recipients have to spend their PPP loan proceeds, decreasing the amount that needs to be spent on payroll for forgiveness, extending worker and wage deadlines, and more.
Below are major details of the act that employers who have received PPP loans may find pertinent:
The amount of time PPP Loan recipients have to spend their loan is increasing to 24 weeks from 8 weeks. If they choose to, employers can keep the 8 week period.
The PPP provisions previously required 75 percent of the loan to be spent on payroll related costs but this act reduces that amount to 60 percent.
Employers will now have until December 31st to restore wages from the previous deadline of June 30th for full forgiveness. The act also allows employers that cannot find qualified employees, have made good faith offers that were rejected, or cannot return business operations to February 15th, 2020 levels, to achieve full forgiveness.
The act increases the minimum loan term period from two years to five years and allows employers with forgiven loans to defer 50% of their share of payroll taxes until 2021 and the remaining 50% until 2022.