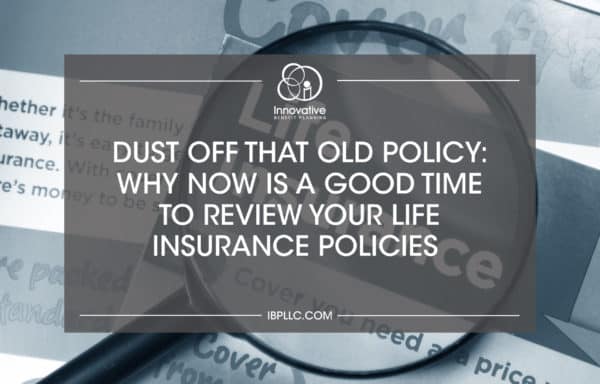 Dust Off That Old Policy: Why Now is a Good Time to Review Your Life Insurance Policies
As a result of the COVID-19 National Emergency, insurance companies have modified their underwriting requirements to help individuals secure additional life insurance protection. Through new "relaxed" underwriting guidelines, insurers are offering coverage without an exam that requires a nurse to visit your home or office. These relaxed guidelines offer a convenient way to increase insurance amounts, with death benefits up to $3,000,000 available for most age groups.  Due to these relaxed guidelines, now is a good time for employers and individuals to review their existing in force policies for key person, buy/sell or estate planning purposes.
Innovative recommends the following when reviewing your life insurance programs:
Term Insurance
Understand your conversion options, particularly the date at which the conversion period ends. Does the period end at a specific age, a specific number of years after issue or at the end of the policy term (10 years, 15 years, etc.)  If the coverage is needed beyond the current conversion period, it is advisable to apply for new coverage prior to the expiration of the conversion period.
When does the premium guarantee period end? If coverage is needed beyond that period, it is advisable to apply for the new coverage in advance so as not to experience the premium increases that occur after the guarantee period ends.
Permanent Insurance – Whole Life, Universal Life, Variable Life
With these types of policies, it is important to review the actual performance of the policy as compared to the original illustration. Performance assumptions that were made at the point of purchase may be inaccurate due to market fluctuations and the prolonged period of low interest rates. This can have a negative effect on policy performance, possibly causing the policy to lapse in later years. It is recommended that policyowners request an in-force illustration periodically.   The illustration will show how the policy will perform going forward based on its actual prior performance instead of the original assumptions.
For All Policies
Review ownership and beneficiary designations to make sure they are still valid.
Review the face amounts of existing policies. Are they still adequate for the unexpected loss of a key employee? Do the amounts match the buy/sell funding formula? Does the face amount provide enough estate liquidity?
If you're considering additional insurance after reviewing your policies, now is the time to act as these relaxed guidelines may change when social distancing requirements end.  For any questions regarding your life insurance policy or securing additional life insurance protection, please contact Innovative Benefit Planning at 856-242-3330 or resources@iifria.com.