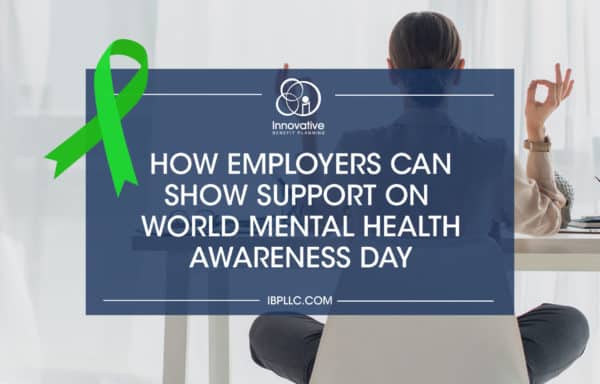 How Employers Can Show Support on World Mental Health Awareness Day
World Mental Health Day is recognized annually to promote education for global mental health, as well as create awareness and advocacy against social stigma.   This yearly observance has occurred since 1992 and carries with it a yearly theme.  It falls on October 10th, and the goal of this year's theme is increased investment in mental health, with a focus on expanding the availability of mental health resources for all.
Statistically, 1 in 5 adults in the U.S. have a mental health disorder, while 1 in 22 adults live with a serious mental illness such as bipolar, depression, or schizophrenia. This COVID-19 pandemic has only led to increased mental health problems due to isolation, fear, and social distancing.  With that being said, it is imperative that we support the World Federation for Mental Heath's view that, " there is no health without mental health".  Therefore, employers specifically are in an ideal position to destigmatize, recognize, and provide support on behalf of their employees' mental health.
What can employers do to promote mental health in the workplace?
Express Support
Raise awareness by looking for creative ways to add in the official mental health awareness color, lime green. (Ribbons around the office, asking employees to wear lime green, etc.).
Highlight mental health awareness on the company's social media platforms.
Add a customized frame around your company's profile picture on social media.
Ask team members to update their email signature to include the mental health awareness ribbon.
Build a Culture
Create a culture of normalization and understanding. Seeking help is a sign of strength not weakness.
Reject stigma.
Develop policies to promote better work-life balance.
Adopt NOTICE. TALK. ACT.
Consider forming a peer support group within your company.
Promote Mindfulness
Plan a team-building activity and invite a yoga instructor live or via zoom to start off the morning.
Provide helpful tip sheets on meditation to use as a resource.
Encourage employees to get up and walk around throughout the day.
Educate the Team
Educate managers and staff on mental health awareness through training opportunities and electronic newsletters.
Teach warning signs of mental illness at home and in the workplace:

Frequent call outs from work
Performance decline
Social withdrawal
Behavior or appearance changes
Fatigue and irritability
Anxiety and trouble sleeping

Offer resources:

Call the National Alliance on Mental Illness (NAMI) Helpline at 1-800-950-NAMI
National Suicide Prevention Lifeline is available at 1-800-273-8255 or call 911.
In a crisis, text "NAMI" to 741741
Promote Benefits
Overall, it's important that your team knows that they have your support not only on October 10th, but all year round.  Consider implementing the above practices all year long to ensure the mental health and safety of your employees.  As stated previously, "There is no health without mental health!"
For more information on Innovative's Workplace Wellness or how to access any of our services, please reach out to your Innovative Benefit Planning Consultant or contact us here.
Learn more about Innovative's Workplace Wellness Here.