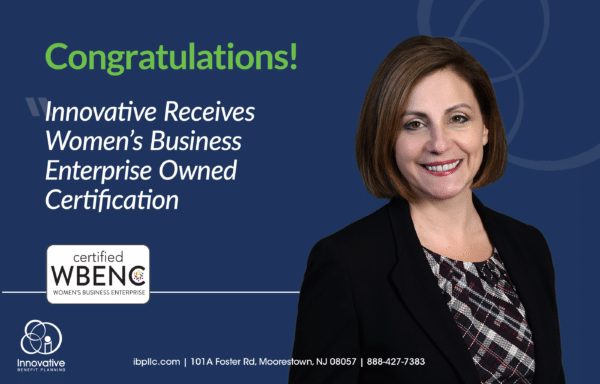 Innovative Benefit Planning is proud to announce that The Women's Business Enterprise National Council, has awarded Innovative Benefit Planning the national 'Women's Business Enterprise' certification.
"Empowering women in the workplace and acknowledging their contributions to everyday operations is not only important but extremely necessary," said Terriann Procida, CEO. "Having a diverse team made up of not only women, but individuals from diverse backgrounds and cultures, has allowed us to bring an array of different perspectives to the table which adds to our growth, productivity, and so much more."
As the Chief Executive Officer and founding partner of Innovative Benefit Planning, Procida has worked endlessly to ensure the company embraces a commitment to diversity in the workplace. Fostering an inclusive environment is vital to the way the organization operates, which allows employees the opportunity to grow, feel accepted, and be challenged. Innovative employees see a representation of a variety of genders, cultures, and ways of thinking, empowering them to feel comfortable to be themselves.
Innovative would like to thank the Women's Business Enterprise National Council for its commitment to diversity and support for women-owned businesses. It is incredibly important that the work and devotion of female entrepreneurs is consistently recognized.
Whitepaper: The Future of the Workplace
With the war for talent intensifying, employers need to adapt their HR strategies to match the new environment so they can remain competitive in recruiting and retention. Learn the top five things employees want and six steps employers can take.