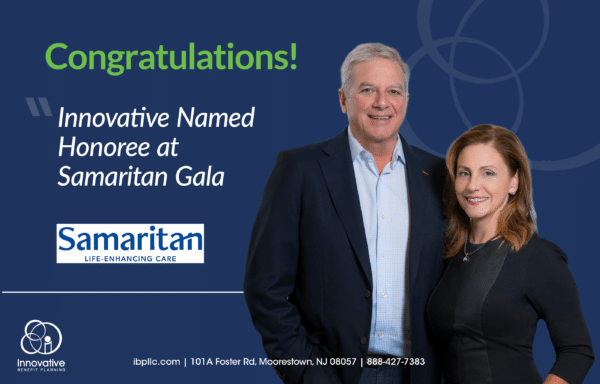 Innovative Benefit Planning is honored to be recognized as a "2023 Celebration of Life Gala Honoree" at this year's Samaritan Gala. Each year, Samaritan honors an individual and/or company for their continued passion, dedication, and love for Samaritan and the community. This year, Samaritan is recognizing Innovative for our commitment to community support.
Terriann Procida and Mark Sulpizio founded Innovative Benefit Planning believing the key to long-term relationships is doing what's right for people. Volunteering and giving back have been incorporated into Innovative's values since day one. Now, more than thirty years later, the Innovative team has become advocates for their clients and their community. The team has been active volunteers and supporters of Samaritan's annual golf tournament, raffle, and more, the employees of Innovative Benefit Planning never fail to share their expertise, support, and time with Samaritan and a host of other community organizations.
Innovative would like to thank Samaritan for its commitment to community health and support. Their work in recognizing and meeting local needs is vital in fostering a happy, healthy future for our neighbors.
To learn more and attend this event, please see here.