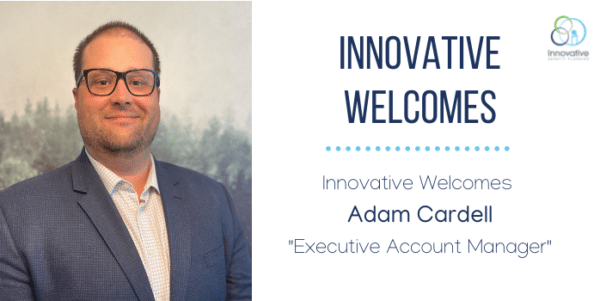 Innovative Welcomes Adam Cardell as Executive Account Manager
We are excited to announce the latest addition to the Innovative Benefit Planning team! Adam Cardell has joined Innovative as an Executive Account Manager.  As an Executive Account Manager, Adam will be responsible for strengthening Innovative's relationships with current clients, as well as ensuring all onboarding, renewal, compliance, and annual service deliverables are met for the client. The Executive Account Manager also helps Innovative develop new products and services for new and existing clients, implement process improvements, and supporting effective management of back-office operations. Adam will report directly to CEO Terriann Procida.
Adam has spent several years in the benefits industry, including most recently as a Client Manager with Willis Towers Watson. He was previously an Account Manager and Sales Consultant with Trinity Benefit Advisors, and a Benefits Specialist at Heath Advocate. "Adam's extensive background in account management and his experience in the benefits industry will be of tremendous value to our clients and client service team," remarked CEO Terriann Procida. "We look forward to his contributions to growing our Employees Benefits Practice."
Adam is a licensed Health and Life Insurance Producer and received his B.S. in Security and Risk at Pennsylvania State University. Outside of work, Adam enjoys ice hockey and golf. He and his wife, Meg, cook together, compete in dominos, and stay busy with their two-year-old daughter, Lizzy, and their dog, Betsy Ross.
We are excited to have Adam join our growing team at Innovative.