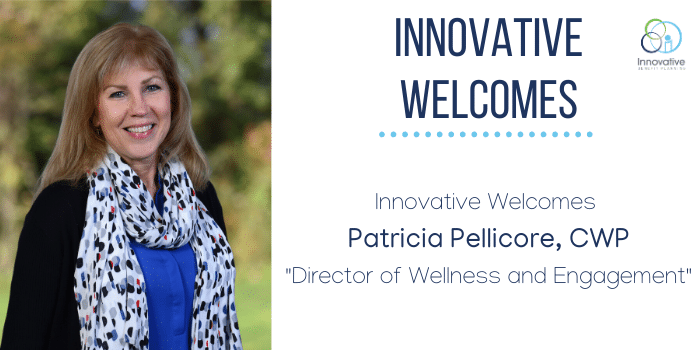 We are pleased to announce another new member has joined the Innovative team! Please help us welcome Patricia Pellicore, CWP, as Director of Wellness and Engagement.  As Director of Wellness and Engagement Patricia will manage, develop, grow, and promote the numerous positive features of Innovative's wellness initiatives. One of her roles is developing program strategies, analyzing biometric testing, health risk assessments, pharmaceutical use, and claims data to provide effective individualized initiatives around health education and disease management. She will also develop wellness seminars, training courses and communication materials for our clients. Moreover, Patricia will be a valuable resource for our member population.
Prior to accepting this position, Patricia spent more than 20 years designing and implementing employee engagement and wellness programs. She most recently served as the Director of Wellness Operations for a personal health advocacy organization. In this role, she managed wellness coaching and biometric data management units, as well as developed wellness coaching policies and procedures.  She previously held positions including Director of Corporate Wellness, Manager of Associate Wellness Programs, and Employee Experience Manager. Patricia is a Certified Wellness Professional (CWP) and holds a faculty designation with the Wellness Council of America (WELCOA).
"Patricia's extensive background in employee wellness and engagement will provide our clients with valuable professional expertise to successfully integrate their population health programs while helping their members reach their personal health targets," remarked CEO Terriann Procida.
We are excited to have Patricia join our growing team at Innovative.