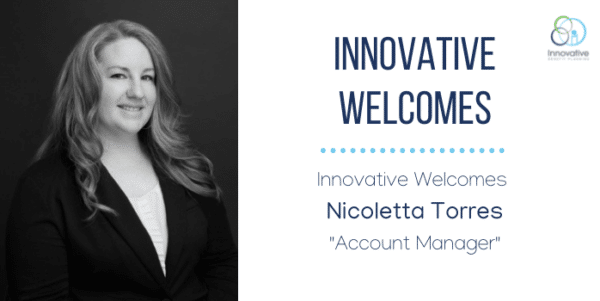 Innovative Welcomes Nicoletta Torres as New Account Manager
We are excited to announce the latest addition to the Innovative Benefit Planning team! Please join us in welcoming Nicoletta Torres as our newest Account Manager.  As an account manager, Nicoletta will be a valuable resource to Innovative's leadership team, employees, and clients. She will directly support our Benefits Consultants during the initial phase of onboarding prospective new clients and then assumes responsibility for both the technical maintenance and the promotion of a very positive experience between Innovative and our clients. Nicoletta will work directly with carriers to obtain quotes and negotiate on the clients' behalf.  In addition, her experience will be beneficial for clients in suggesting plan designs, funding methods and contribution strategies.
Prior to accepting this position, Nicoletta spent 12 years as an account manager and senior benefits account manager. She most recently managed a large General Insurance Agency that supported PA, NJ, NY and DE markets. Nicoletta was responsible for developing and maintaining mutually rewarding relationships with clients, carriers, and producers. She began her career as an employment resource counselor. Nicoletta received her B.A. in Sociology from Fairleigh Dickinson University and holds an insurance producer license with the New Jersey Department of Banking and Insurance.
Outside of work, Nicoletta, her husband, and their two young children enjoy camping and sports. She coaches her children's soccer teams; is a member of the soccer board; and plays fast pitch softball.
"Nicoletta brings a solid background working directly in the benefits account manager arena," said CEO Terriann Procida. "Her positive and supportive attitude will help us delivery timely and accurate services to our clients."
We are pleased to welcome Nicoletta to our growing team.