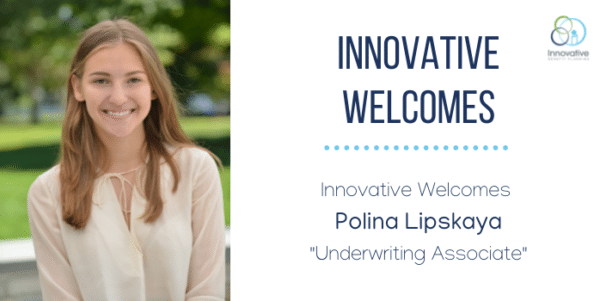 Innovative Welcomes Polina Lipskaya as Underwriting Associate
Please join us in welcoming Polina Lipskaya as our newest Underwriting Associate.  In this role, Polina will be a key member of the Client Service team.  She will directly support the Account Executives, Account Managers, and Consultants with quoting, reporting and the overall analytical processes through the proposal process. This position works as an integral part of the Sales and Account Executive teams with the responsibility to maintain excellent relationships both internally and externally with Innovative clients and vendors.
Prior to joining Innovative, Polina was a Consulting Director for a large Philadelphia based consulting company for non-profits. She has also worked as an analyst for pre-seed investor Contrivance Ventures in London and with Sberbank in Moscow. Polina graduated earlier this year from Haverford College in Pennsylvania with a B.A. in Economics.
We are pleased to welcome Polina to our growing team.