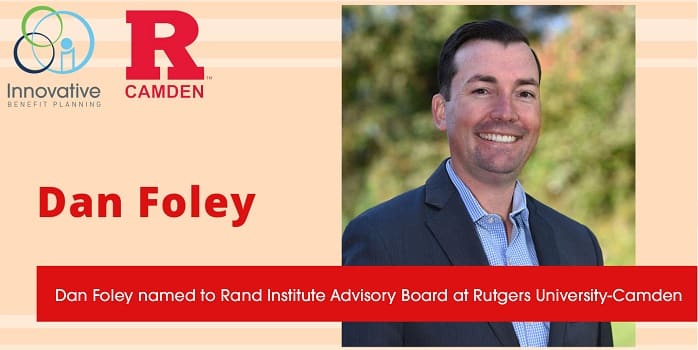 The Senator Walter Rand Institute for Public Affairs at Rutgers University–Camden, an institute for public policy issues impacting southern New Jersey, announced last week that Innovative's Vice President, Consulting, Dan Foley, has been appointed to their advisory board. Dan is joined by two other regional leaders, Amy Obsorn, vice president and head of private banking for Republic Bank and Christina Renna, senior vice president at the Chamber of Commerce Southern New Jersey.
"It's important for South Jersey to think and act regionally if we hope to balance our competing desires for growth with the preservation of the quality of life that makes South Jersey such an attractive place to live," says Darren Spielman, executive director of the Rand Institute at Rutgers–Camden. "These individuals are committed to the Rand Institute's mission to leverage Rutgers–Camden research expertise in order to bring together citizens and policy makers on behalf of South Jersey's citizens."
Dan, Amy and Christina will join their existing 26 member advisory board, consisting of leaders from a diverse range of sectors, all sharing the same commitment to advancing southern New Jersey through the research conducted at the Rutgers University-Camden policy center.
"I am very excited about joining the Rand Institute advisory board," stated Dan. "I look forward to working alongside this dedicated board and providing guidance and support for their long-term success."
About the Rand Institute for Public Affairs:
Founded in 2000 under the leadership of Dr. Richard Harris, the Senator Walter Rand Institute for Public Affairs was organized to honor Senator Rand's legacy of public service to southern New Jersey and to his home town of Camden.  Launched with a legislative appropriation from the State of New Jersey and matching funds from Rutgers University, WRI serves as a research and public service center for Rutgers-Camden, the southern campus of the state's land grant university.
About Dan Foley:
Dan has over 17 years of consulting experience with middle market employers in workforce management and employee benefits. He is a Certified Corporate Wellness Specialist® and has helped many employers implement alternative funding plan designs and wellness programs with a measurable ROI. Dan has a Bachelor's of Finance Degree from Seton Hall University, has served on an advisory board for Automatic Data Processing, Inc. and on the All-Star Consulting Panel at the United Benefit Advisors Fall Conference in 2013 and 2014. Dan is licensed in Health, Life, and Disability insurance and is also federally licensed as an Investment Advisor Representative with the SEC.