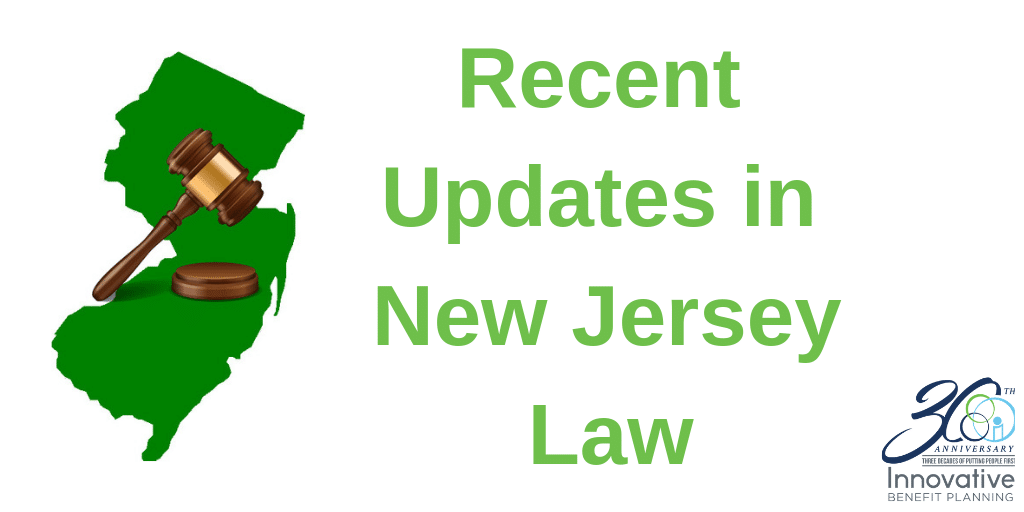 A lot has been happening in New Jersey since the new year began, and there have been a few critical updates for New Jersey employers and employees.
New Jersey Minimum Wage
On January 17, 2019, Governor Phil Murphy and legislative leaders agreed on legislation that will incrementally increase New Jersey's minimum wage to $15.00 an hour by the year 2024, making New Jersey one of the most progressive states in the nation on this topic.  The minimum wage is currently $8.85 as of January 1, 2019.
New Jersey Earned Sick Leave law
The New Jersey Earned Sick Leave law went into effect on October 29, 2018 and employees are eligible to start using this accrued leave as of February 26, 2019.  Don't forget to carryover any time that accrued from October 29, 2018 through the end of 2018.  As a reminder, employees cannot accrue more than 40 hours in a benefit year.  For a refresher on some of the highlights of the law, click here on our website.  Although the comment period for the proposed Regulations ended December 14, 2018, we are still awaiting the final Regulations. (Also, don't forget about the Equal Pay Act, which went into effect in April 2018.  You can see some highlights on that law here.)
Changes to New Jersey's Family Leave Act, Family Leave Insurance, Temporary Disability Insurance and the SAFE Act
On February 19, 2019, Governor Murphy signed sweeping legislation into law, which greatly expands New Jersey's paid family leave laws.  The law amends numerous existing laws concerning family leave, temporary disability and family temporary disability leave, as well as domestic or sexual violence safety leave, including the New Jersey Family Leave Act (FLA) and New Jersey Family Leave Insurance (FLI) laws, and the NJ SAFE Act.
Below is an overview of the major changes in the laws and employers should review their current policies and procedures and make adjustments as necessary.
Expansion of Employers and Family Members Covered by the Law
Effective June 30, 2019, employees at companies with 30 or more employees are eligible for protected leave and continuation of employer sponsored benefits under the FLA and cannot be retaliated against for taking leave recognized under the law. This is a decrease from the existing 50 employee requirement under NJ FLA, as well as the federal FMLA.
Prior to the new law, the FLA permitted leave to be taken for:
The care of a newly born or adopted child, as long as leave begins within one year of the date the child is born to or placed with the employee; or
The care of a parent, child under 18, spouse, or civil union partner who has a serious health condition requiring in-patient care, continuing medical treatment or medical supervision. The Family Leave Act considers parents to be: in-laws, step-parents, foster parents, adoptive parents or others having a parent-child relationship with an employee.
Effective immediately, benefits are now available to employees caring for more categories of family members, including siblings, in-laws, grandparents, grandchildren, other blood relatives, and any individual who can be shown to have the equivalent of a family relationship, which is similar to New Jersey's Earned Sick Leave law.
The FLA and the FLI laws are now expanded to provide an employee who becomes a foster/resource parent, or the parent of a child pursuant to a gestational carrier agreement, with the same rights to unpaid and paid family leave as these laws currently provide to a parent of a "biological, adopted,… stepchild, legal ward, or child of a parent."
Increases Available Intermittent Leave under the FLA:
Beginning in July 2020, the current 42 days of intermittent leave days available will increase to 56 days of intermittent leave available to take within a 12-month period.
Also, previously intermittent leave for birth and adoption of a child was only allowed with the employer's consent. Effective immediately, the employee has the right to take intermittent leave without employer consent.
Under the prior law, employees were permitted to take leave on a reduced leave schedule for up to a maximum of 24 consecutive weeks. Effective immediately, the amendment increases this to up to a maximum of 12 consecutive months.
Notice Requirement: For intermittent leave requests, the law reduces the employee's obligation to provide advance notice from 30 days to 15 days effective immediately.
FLI and TDI Now Covers Victims of Domestic or Sexual Violence:
The Safe Act (Security and Financial Empowerment Act) was expanded. The Act applies to employers with 25 or more employees and grants an employee 20 days of leave in a 12-month period if the employee, or the employee's family member, including a child (under 19 or of any age incapable of self-care), parent, spouse, domestic partner, or civil union partner, has been the victim of domestic violence or a sexually violent offense.
An employee is now allowed to take FLI or TDI leave for medical attention, counseling, or legal assistance or proceedings arising out of domestic violence or sexual violence. An employee can take leave if they themselves have been the victim of domestic or sexual violence, or in order to care for a family member who has been a victim.
New Anti-Retaliation Provisions under the FLA and FLI/TDI:
The new law creates a provision stating that an employer may not discharge, harass, threaten, or otherwise discriminate or retaliate against an employee with respect to the compensation, terms, conditions, or privileges of employment on the basis that the employee requested or took any TDI or FLI benefits. These covered employers also cannot refuse to restore the employee following a period of leave.
FLI and TDI Increase in the Weekly Benefits:
Effective July 1, 2019, the 7-day waiting period has been eliminated from Family Leave Insurance benefits.  Employers may not require employees to use Paid Time Off in lieu of FLI or TDI, but an employee can opt to use PTO.
Effective July 1, 2020, employees can receive 85% of their weekly wage, with the maximum possible benefit increasing to 70% (from 2/3rd) of New Jersey's average weekly wage. Based on current numbers.
Doubles the Number of Weeks for Paid Leave:
Beginning in July 2020, employees, regardless of the size of their organization, can take up to 12 consecutive weeks of paid family leave under FLI or temporary disability insurance (TDI) during any 12-month period. Currently, employees are only able to take up to six weeks of FLI or TDI in a 12-month period.
Employees Pay for FLI and TDI Increases:
The benefits and costs associated with FLI are funded entirely through an additional assessment on the employees' wages, while TDI is both employer and employee contributions. The state's Office of Legislative Services notes that the increase in benefits, along with any associated administrative costs, will be funded through employee taxes and not through any assessment on employers. The employee paycheck line item "NJ SUI/SDI Tax" includes monies withheld for FLI and TDI.
Have questions regarding any of the recent NJ law changes or other HR related topics? Our Compliance and HR team are here to help. Contact us here.