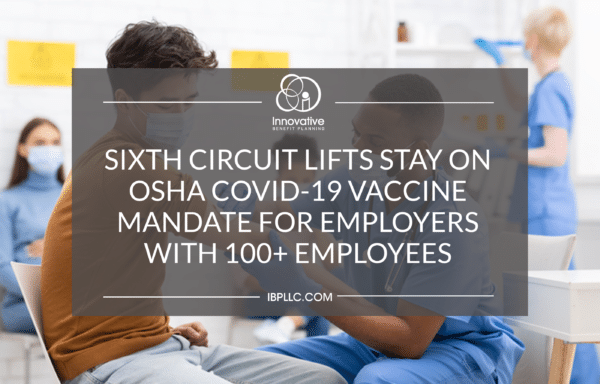 The U.S. Court of Appeals for the Sixth Circuit has issued an opinion lifting the stay on the vaccine-or-test mandate for employers with 100 or more employees. The stay was imposed by the Fifth Circuit Court of Appeals in November as a result of the Emergency Temporary Standard (ETS) released by OSHA which would require employers with at least 100 employees to mandate COVID-19 vaccination or implement a weekly testing protocol. The ETS faced numerous legal challenges shortly after implementation resulting in multi-circuit petitions for review, eventually being brought before the three-judge panel that issued the opinion.
The ETS originally imposed a deadline of January 4, 2022, for employers to be in compliance, but in light of the short turnaround time for employers, these deadlines have been adjusted. As a result of the court's opinion, the Department of Labor (DOL) released a statement on December 18, 2021, stating it will not issue citations before January 10, 2022 for noncompliance with the ETS requirements and will not issue citations for noncompliance with the ETS's testing requirements for nonvaccinated employees before February 10, 2022, to allow time for employers to comply with the mandate's requirements, so long as an employer is "exercising reasonable, good faith efforts to come into compliance with the standard." On December 20, 2021, the U.S. Supreme Court stated it has received appeals requesting a freeze on the decision until the appeals process as been complete. Additionally, other requests have been made for the Court to bypass the standard appeals process and hear arguments now. The Court has set a deadline of December 30, 2021 for responses to the appeals, at which time the Court will begin its review.
It is unclear whether the mandate will be upheld or overruled at this time. Employers should be mindful of the new deadlines and begin taking steps toward implementation should the mandate be upheld. The OSHA ETS fact sheet outlines employers' responsibilities under the mandate. Below are steps employers can take to begin preparing for implementation.
Employer Steps:
Begin drafting and implementing mandatory COVID-19 vaccination policy, with or without a weekly COVID-19 testing alternative. Policy should include:


Steps for employees to take if they receive a positive COVID-19 test or are diagnosed with COVID-19
Procedure for unvaccinated or not fully vaccinated employees to be tested weekly or within seven (7) days of returning to work. Unvaccinated or not fully vaccinated employees must also wear masks in indoor settings or if in a vehicle with another person for work purposes
Details regarding the requirements under the ETS, workplace policies and procedures, protections against discrimination and retaliation, criminal penalties for knowingly supplying false documentation, and vaccine information including:  vaccine efficacy, safety and benefits of being vaccinated
Information regarding paid time off for employees to receive each dose of the vaccination and sick time to recover from symptoms related to each vaccination dose

Create a process to obtain proof of vaccination and maintain vaccination status of each employee
Ensure all records are available to an employee or an employee's representative for examination and copying
This information can be found on our blog. When planning your vaccine practices, visit our COVID-19 Employer Resource Kit for additional COVID-19 Vaccine resources, including model policies, on-site testing vendor options and information on a new NJ COVID-19 Free testing option.
If you have any questions, please contact us at icomply@ibpllc.com.
Do you have questions regarding the mandate? Download our pre-recorded webinar below to hear our Director of Compliance, Tamalyn Wandler, JD provide an informative legal update, discuss how this impacts employers, and answer many employer questions.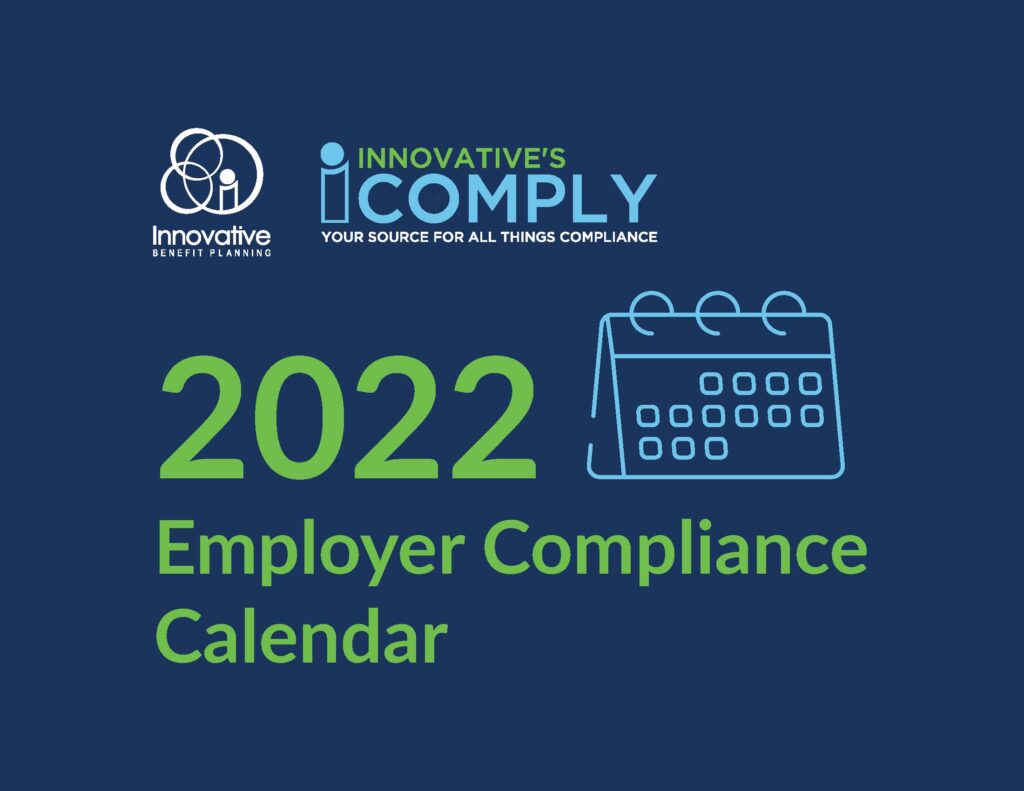 2022 Employer Compliance Calendar
Are you finding it difficult to keep up with the constant changes in the compliance landscape? We understand that HR professionals have other important items on their plate so we have put together a 17 page calendar that will insure employers are meeting deadlines to remain compliant in the workplace. Click below to download our calendar!