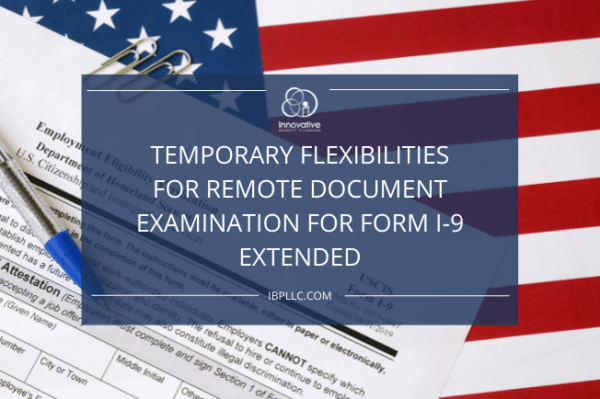 In March 2020, the Department of Homeland Security (DHS) and U.S. Immigration and Customs Enforcement (ICE) instituted a temporary policy which allowed employers with a remote workforce to defer physical presence requirements associated with Form I-9 and Section 274A of the Immigration and Nationality Act. Initially applicable only to employers with an entirely remote workforce, the flexibilities were extended in April 2021 to include all employers who hire remote employees on or after April 1, 2021, if such employees were hired to exclusively work remote due to the employer's COVID-19 policy. Under this guidance, exclusively remote employees are exempt from the physical inspection requirements until non-remote employment is undertaken, or new guidance around the requirements has been issued.
Previously, this guidance was set to expire April 30, 2022, but has now been extended again until October 31, 2022. DHS has taken steps to evaluate if this policy should be made permanent. However, while additional guidance is pending, employers using virtual inspection methods should prepare to revert back to pre-COVID-19 operations and begin in-person inspections of identification documents absent additional extensions in October. Employers, at their discretion, may wish to consider reinstituting in-person verification of employment eligibility and identity verification documentation for those employees affected by aforementioned flexibilities prior to October 31 in an effort to streamline the process and reduce the number of documents they need to reevaluate should the policy not be made permanent.
New Form I-9 is Pending
DHS has announced pending changes to the current Form I-9 in an effort to simplify and clarify aspects of the Form. The current Form I-9 is set to expire October 31, 2022. Among other things, the proposed changes include the following:
Reducing the Form's instructions from 15 pages to 7 pages,
Updating the List of Acceptable Documents to allow for a link to the List C documents issued by DHS,
Consolidating Sections 1 and 2 to reduce paper use,
Moving Section 3 to its own Reverification and Rehire Supplement, which would only be accessed if needed, and
Removing the PDF enhancements currently in place to allow users to view and complete the document from any electronic device.
DHS is currently reviewing the public comments and further guidance is anticipated in the coming months.
To view the previously released Compliance update regarding the Form I-9 Temporary Flexibilities for Expired List B Identity Documents, please see here.
The information provided herein does not, and is not intended to, constitute tax or legal advice; instead, all information, content, and materials herein have been provided for general informational purposes only. Recipients of this information should contact their attorney and/or accountant to obtain advice with respect to any particular tax or legal matters. Insurance services are offered through Innovative Benefit Planning, LLC.; Investment advisory services are offered through Innovative Investment Fiduciaries, LLC, an independent Registered Investment Advisory firm; Discretionary investment advice may be provided through Main Street Financial Life Advisors, LLC, an independent Registered Investment Advisory firm offering unbiased, fee-based advisory services.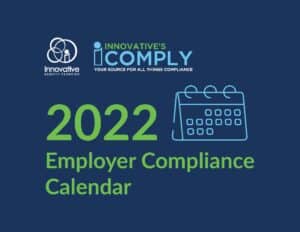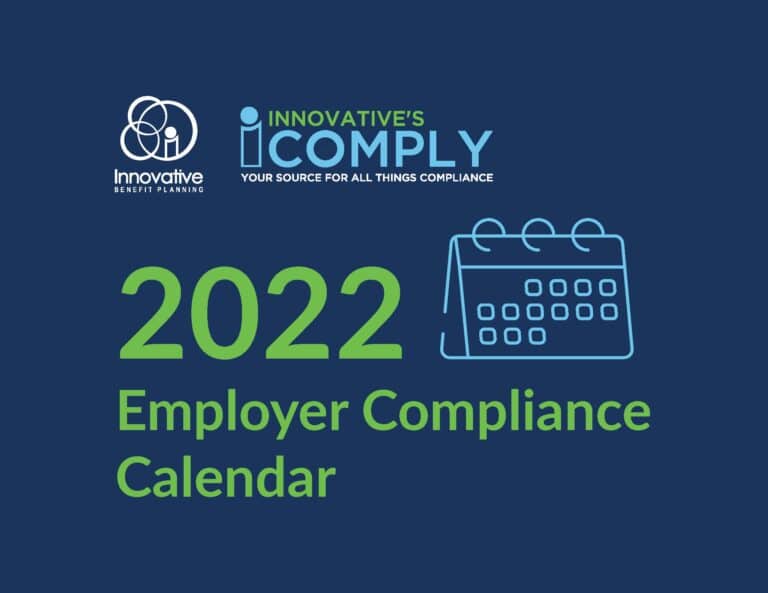 2022 Employer Compliance Calendar
Are you finding it difficult to keep up with the constant changes in the compliance landscape? We understand that HR professionals have other important items on their plate so we have put together a 17 page calendar that will insure employers are meeting deadlines to remain compliant in the workplace. Click below to download our calendar!